Biography
By Jeremiah Favara, Carol Stabile, and Laura Strait
Hilda Vaughn (1897-1957) was an actress who performed on stage, in films, and on television. Vaughn also appeared in more than fifty motion pictures. 
Vaughn was born Hilda Weiller Strouse in Baltimore, Maryland on December 27, 1897. Her father was clothing manufacturer Eli Strouse and her mother was Zillie Willis.1 Vaughn attended Vassar College and the American Academy of Dramatic Art.2
Vaughn's performance career began on the stage. Vaughn often appeared in plays in her native Baltimore, including appearances in Crime (1927) and Tampico (1928).3
Vaughn also acted in a number of Broadway productions, including Seed of the Brute (1926), Get Away Old Man (1943), and On Whitman Avenue (1946). Her performance in Seed of the Brute was called "the most interesting performance of the evening" in a review in the New York Times.4
Vaughn often acted in plays as a member of the Experimental Theater Group, including appearances in A Temporary Island (1948) and Celebration (1948).5 . In the early 1950s, Vaughn also acted on radio and television, in the United Nations Documentary radio play Document A/777 and The Adventures of Ellery Queen (1950) and "Mister Peepers" (1952). 
Vaughn died in Baltimore on December 28, 1957.
1 Ancestry.com. U.S., Social Security Applications and Claims Index, 1936-2007.
2"Hilda Vaughn, Actress, Is Dead at 60; Last Appeared Here in 'The River Line,'" New York Times, December 30, 1957, 21.
3"Theatrical Notes," New York Times, 10; "What News on the Rialto?" New York Times, X1.
4"'Seed of the Brute' Is A Turgid Drama: Underworld Graft Figures in Entrikin's Fairly Interesting Play Crowded With Plot," New York Times, November 2, 1926, 34.
5Brooks Atkinson, "At The Theatre," New York Times, April 12, 1948, 24; Brooks Atkinson, "At The Theatre: Halsted Welles' Circus Play, 'A Temporary Island,' Produced by the Experimental Theatre," New York Times, March 15, 1948, 27.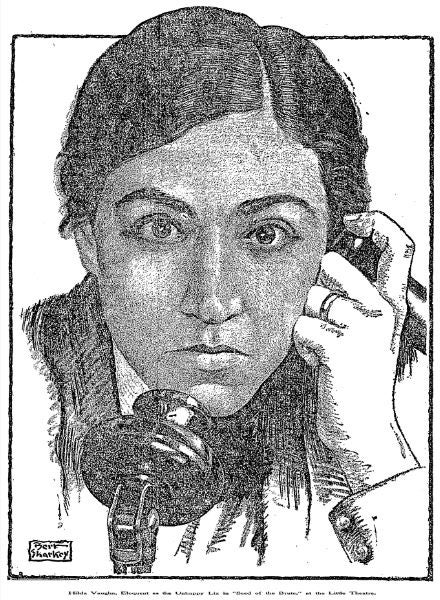 Film
Witness for the Prosecution (1949) 
Confirm or Deny (1941)
Charlie Chan at the Wax Museum (1940)
Maid's Night Out (1938)
Nothing Sacred (1937)
Danger - Love at Work (1937)
Banjo on My Knee (1936)
Charlie Chan at the Opera (1936)
The Accusing Finger (1936)
And Sudden Death (1936)
Captain January (1936)
The Witness Chair (1936)
Gentle Julia (1936)
Everybody's Old Man (1936)
The Trail of the Lonesome Pine (1936)
I Live My Life (1935)
Men Without Names (1935)
Chasing Yesterday (1935)
Straight from the Heart (1935)
The Wedding Night (1935)
Anne of Green Gables (1934)
Dinner at Eight (1933)
No Marriage Ties (1933)
Today We Live (1933)
Film (continued)
No Other Woman (1933)
The Phantom of Crestwood (1932)
Ladies of the Big House (1931)
Susan Lenox (Her Fall and Rise) (1931)
It's a Wise Child (1931)
A Tailor Made Man (uncredited) (1931)
Manslaughter (1930)
Three Live Ghosts (1929)
Stage
A Temporary Island (1948)
On Whitman Avenue (1946)
Get Away Old Man (1943)
Rain (1924)
The Seed of the Brute (1926) 
Glory Hallelujah (1926)
Lady Bug (1922)
Television
Mister Peepers (1952)
The Adventures of Ellery Queen (1950)
Prescription for Treason (1950)
The Chevrolet Tele-Theatre (1949)