Biography
by Jeremiah Favara and Carol Stabile
Overview
Meg Mundy was a British-born model, singer, and actress. She had a successful career as a model, as a stage actress on Broadway, and in television. She was best known for her appearances as a model in the pages of Vogue, her breakout performance in the 1948 play The Respectful Prostitute, and her roles in soap operas.
Mundy was born on January 4, 1915 in London, England. Her parents, John Mundy and Clytie Hine, were musicians. Mundy was a cellist and Hine was a soprano. Mundy moved to the United States with her parents and brother, John Hine Mundy, in 1921.
Career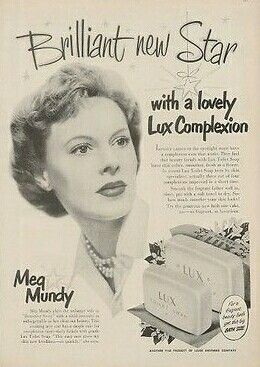 Mundy had a varied and prolific career as a singer, model, and actress      in theatre, television, and film. Mundy was a soloist with the New York      Philharmonic beginning in the 1930s and also performed in the chorus      in several Broadway shows, including Hooray for What!
Mundy loved acting. To support herself in acting school, she looked for   employment in modeling. In 1939, renowned fashion photographer John   Robert Powers told her she was no beauty, "but I bet you   photograph." Told that she needed to do something   about her "dreadful" hair, chided by fashion photographer Horst P. Horst   that "you're too ugly" to model, Mundy persisted and was eventually   signed by Vogue fashion editor Sally Kirkland. Despite the criticisms of   male photographers, she became a highly successful model in the   1940s, appearing frequently in Vogue, and was named one of the "12 all-time great fashion models" in Life Magazine.
Mundy's first role was as a walk-on in Sidney Kingsley's 1936 Ten Million Ghosts. Her big break as a stage actress came with her role in The Respectful Prostitute in 1948. Written by Jean-Paul Sartre, the play was loosely based on the Scottsboro case, and explored the scapegoating of an African American man for a sexual assault committed by a white man. The play was adapted by Russian-born writer Eva Wolas and directed by groundbreaking director Mary Hunter (who later won a suit for her dismissal from the musical High Button Shoes on the basis of sex discrimination). The Respectful Prostitute was produced by the experimental collaborative production company New Stages, Inc., a group formed by performers who purchased shares in the new company. Critics applauded Mundy's performance.
In a recap of the theatre season, Mundy was said to have "won the rave reviews from the crix," as well as a Theatre World Award for her performance. Mundy was also considered for the lead for Eileen Tighe's play, Congressional Baby, a comedy/drama set in New Hampshire about a woman running for Congress. Mundy also had a short run in How I Wonder? (1947), directed by Garson Kanin, who would later be listed in Red Channels along with Mundy. In 1949, she landed her first starring role, the play Detective Story, starring with Ralph Bellamy.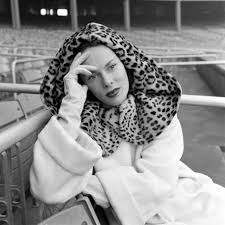 After being blacklisted, Mundy worked as a fashion editor in the 1950s and 1960s for a fabric house and as beauty editor for Mademoiselle magazine. She landed a role as Mona Aldrich in The Doctors, a soap opera, which aired on NBC in the 1970s. She went on to perform in films in the late 1970s and 1980s along with continued appearances on a variety of television shows. Her last appearance on television was on the soap opera All My Children in 2001.
Mundy died on January 12, 2016 at the age of 101. She was survived by her son Sotos Yannopoulos and her granddaughter Margaret Yannopoulos.
The blacklisting publication, Red Channels, identified Meg Mundy as an "Actress, lead in 'Respectful Prostitute,'" a play by Jean-Paul Sartre. Her break-out role in a play loosely based on the case of the Scottsboro case directed anti-communist attention to her: when the play premiered in the U.S., Sartre was accused of anti-Americanism. Red Channels also reported that Mundy had provided a recorded message to a rally in support of the Hollywood Ten in March 1948, as well as allowing her name to be listed in an advertisement in Variety in support of the Ten later that year. Of course, like other Broadcast 41 members, Mundy's progressive record had a longer history, including her participation in the experimental collaborative production company New Stages, Inc., along with Hester Sondergaard and Betty Winkler, both of whom would also be listed in Red Channels.
Mundy went on to play numerous roles in television during the 1950s, although—like many blacklisted actresses, her recurring roles were mainly in soap operas. After the blacklist, she did not appear in Hollywood films until the 1970s.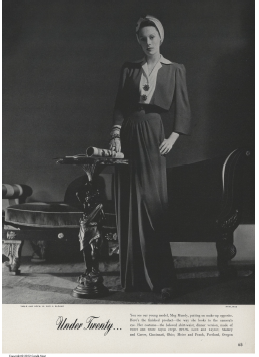 Television
The Ford Theatre hour (1949)
Starlight Theatre (1950)
Suspense (1949-1950)
Nash Airflyte Theatre (1950)
The Billy Rose Show (1950)
Lights Out (1950)
The Web (1951)
Somerset Maugham TV Theatre (1951)
Kraft Theatre (1951)
Tales of Tomorrow (1951)
Celanese Theatre (1952)
Guiding Light (1952)
Broadway Television Theatre (1953)
Justice (1955)
Star Stage (1956)
Playwrights '56 (1955-1956)
Alfred Hitchcock Presents (1956)
The Alcoa Hour (1957)
Studio One in Hollywood (1954-1957)
The United States Steel Hour (1954-1958)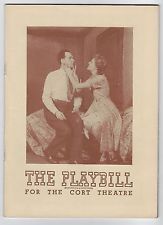 Moment of Fear (1960)
Naked City (1961)
Special for Women: The Glamour Trap (1961)
First Ladies Diaries: Edith Wilson (1976)
Breaking Up (1978)
The Doctors (1972-1979)
Loving (1983)
Great Performances (1984)
Law & Order (1990-1997)
All My Children (1997-2001
Film
Eyes of Laura Mars (1978)
Oliver's Story  (1978)
The Bell Jar (1979)
Ordinary People (1980)
The Survivors (1983)
Fatal Attraction (1987)
Someone to Watch Over Me (1987)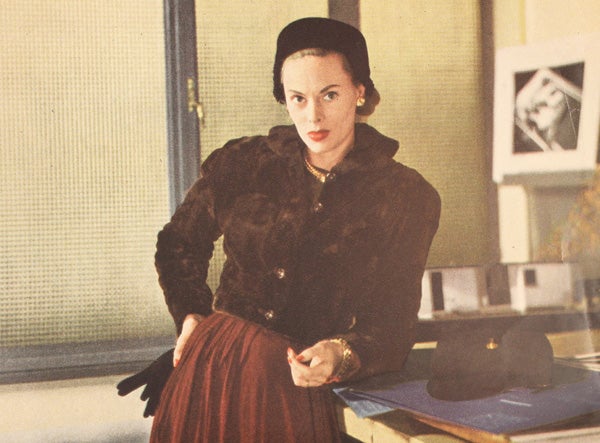 Theater
The Great Waltz (September 22, 1934 - June 8, 1935)
Ten Million Ghosts (October 23, 1936 - November 1936)
Hooray for What! (December 1, 1937 - May 21, 1938)
The Fabulous Invalid (October 8, 1938 - December 3, 1938)
Three to Make Ready (March 7, 1946 - December 14, 1946)
How I Wonder (September 30, 1947 - November 22, 1947)
The Respectful Prostitute (March 16, 1948 - December 18, 1948)
Detective Story (March 23, 1949 - August 12, 1950)
Love's Labour's Lost (February 4, 1953 - February 15, 1953)
Love Me Little (April 14, 1958 - April 19, 1958)
The Philadelphia Story (November 14, 1980 - January 4, 1981)
You Can't Take It With You (April 4, 1983 - January 1, 1984)