Biography
By Jeremiah Favara, Carol Stabile, and Laura Strait
Frederika (Fredi) Carolyn Washington (1903-1994) was born in Savannah, Georgia. Like other cultural workers of her generation, she was multitalented, excelling as a dancer, actress, journalist, and activist. Washington began her career as a dancer in the 1920s before going on to a career in film, radio, and the stage in the 1930s and 1940s. Washington was an activist throughout her career, organizing against racism in unions, theaters, television, and film. 
Washington was born on December 23, 1903 in Savannah, Georgia. Her father, Robert T. Washington, was a postal worker and her mother, Harriet Walk Ward Washington, was a homemaker.1 Washington was one of five siblings with two brothers, Bubba and Alonzo, and two sisters, Isabel and Rosebud.2 
Washington's mother died when Washington was eleven. When her father remarried in 1917, she and Isabel were sent to St. Elizabeth's Convent for orphaned black and Indian children in Cornwell Heights, Pennsylvania.3 Founded by Katharine Drexel (who also founded Xavier University in New Orleans), St. Elizabeth's was driven by a humanitarian commitment to address "systematic justice issues of inequality, racism, hatred, violence, greed and prejudice in Church and Society."4 
Washington later moved to New York to live with her grandmother and an aunt, where she attended Julia Richman High School before the depression forced her to drop out in order to support herself.5 Washington worked as a stockroom clerk at a dress company and as a bookkeeper at the W.C. Handy Black Swan Record Company, where she heard about a dance audition for the musical Shuffle Along.6 Choreographer Alida Webb hired her on the spot.7
Working in Entertainment
Washington's career in entertainment began in 1921 when she was cast in the chorus line in the Shuffle Along, the first Broadway musical created, produced, and performed entirely by African Americans.8  Following Shuffle Along Washington worked as a dancer at Club Alabam, a club in midtown Manhattan that catered to mostly white and wealthy audiences.9 While dancing at Club Alabam, Washington gained the attention of Lee Schubert, who insisted she audition for the play Black Boy.10 Washington was cast as the female lead in Black Boy, playing opposite Paul Robeson. The play opened in 1926 at the Comedy Theatre on Broadway and critics praised her performance.11 
Washington continued to dance in nightclubs and perform on stage throughout the 1920s, including two years touring Europe, where she danced as a member of the ballroom dance team Fredi et Moiret with Al Moore.12 Washington began appearing in films in the late 1920s, including Black and Tan Fantasy (1929), Great Day (1929), Hot Chocolates (1929), and Eugene O'Neill's The Emperor Jones (1933).13 Washington continued to perform in films and on stage in the 1930s. 
Imitation of Life Controversy
Throughout her career, Washington struggled with perceptions and views producers and audiences had of her as a light-skinned black woman. Beginning with her role in Black Boy, Washington was often typecast as a "fair-skinned black woman who decides to pass for white".14 This practice of typecasting, and its consequent effects on Washington, was most evident in Imitation of Life. Washington was cast as "Peola", a young light-skinned black woman who decides to pass as white in order to access opportunities available to whites.15  The role of "Peola" followed the figure of the "tragic mulatto" as a character type assigned to black actors.16 Prior to production, the Hollywood Production Code Administration (PCA) rejected Imitation of Life as it was found to be in violation of a code clause covering miscegenation17 Due to its featuring a black woman appearing as white—the film was found by the PCA to be implying miscegenation somewhere in the character's past. In response to these concerns Universal, the studio in charge of production, inserted a line in the script explicitly describing Peola's father as a light-skinned black man.18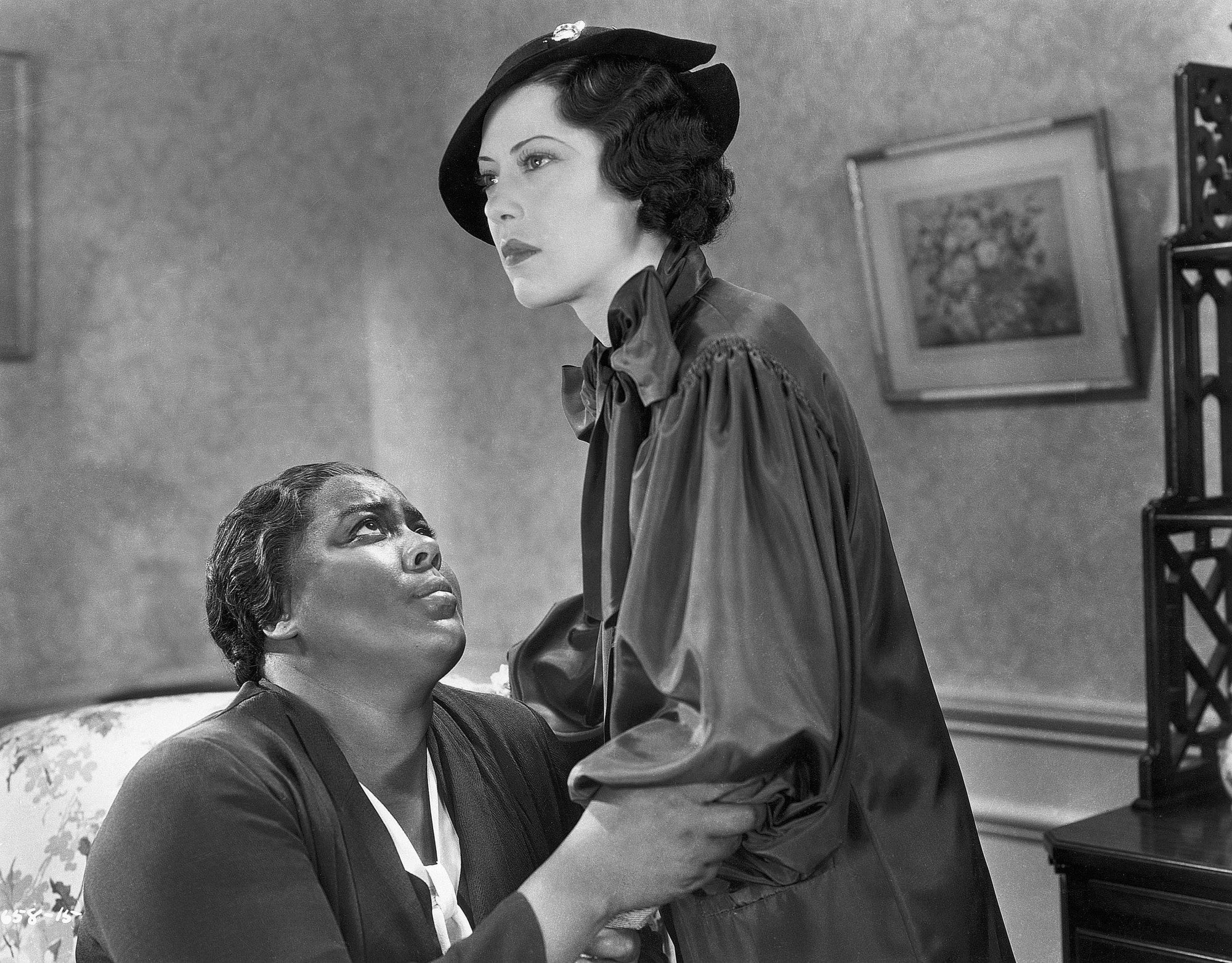 Her appearance in Imitation of Life (1934), a box-office success, exacerbated difficulties Washington faced as a light-skinned black woman.19  Washington's face had to be darkened in Imitation of Life (as it had in The Emperor Jones in 1933) so that audiences would not read her as white.20 Washington's performance in the role led to publicity claiming that she was, in real life, anti-black.21 Following the film's release, Washington began to take a public stance against racial passing; a stance that influenced her subsequent selection of roles and her devotion to political action.22 
Washington performed in a number of Broadway productions until the late 1940s and in radio, including specials for the National Urban League.23
1. Davis, Kimberly N. "Fredi Washington: Black Entertainers and the 'Double V' Campaign." Master's thesis, Texas State University-San Marcos, 2006.
2. Ethridge, Notable Black American Women.
3. Ibid.; http://www.aaregistry.org/historic_events/view/fredi-washington-actress-depth
4. Kimberly N. Davis, "Fredi Washington: Black Entertainers and the 'Double V' Campaign" (Master of Arts, Texas State University-San Marcos, 2006), 4.
6. Ethridge, Notable Black American Women.
7. Norma Jean Darden, "Oh, Sister! Fredi and Isabel Washington Relive '30s Razzmatazz," Essence Magazine, September 1978.
8. Ibid.; Black, "Looking White, Acting Black".
9. Ibid.
10. Ethridge, Notable Black American Women.
11. Ibid.
12. Ibid.; Davis, "Fredi Washington".
13. Ethridge, Notable Black American Women.
14. Ethridge, Notable Black American Women, 1212.
15. Davis, "Fredi Washington".
16. Ibid.
17. Ibid.
18. Ibid.
19. Ibid.
20. Ibid.
21. http://www.aaregistry.org/historic_events/view/fredi-washington-actress-depth
22. Black, "Looking White, Acting Black".
23. Ibid.; http://www.aaregistry.org/historic_events/view/fredi-washington-actress-depth[/fn] In 1949, Washington agreed to play a maid on The Goldbergs, but only if she could read the script first and determine whether it was "the kind of part a Negro actress could play without making Negroes ridiculous." Washington read the script, revised it, and performed in what became a recurring role.Arthur Pollock, "Fredi Washington Refuses to Be Anyone But Fredi," The Daily Compass, December 14, 1949.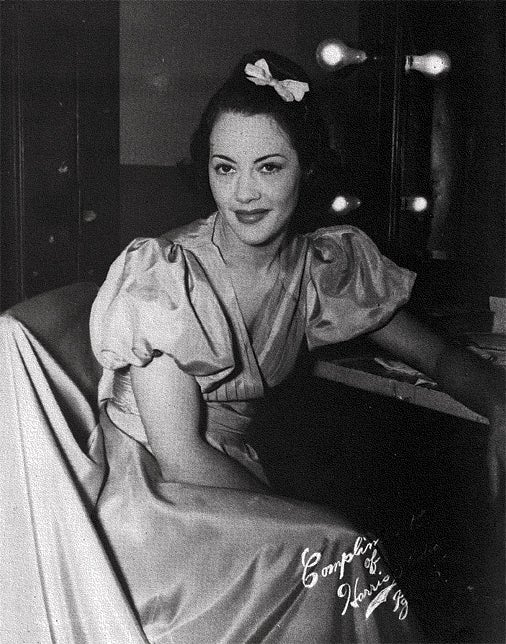 Journalism
Dissatisfied with the limitations she faced as a film actress, in May 1942, Washington joined the staff of Adam Clayton Powell, Jr.'s Harlem newspaper, The People's Voice, to work on public relations for the weekly newspaper. She began filling in for columnists on vacation, writing in particular for the column, "Solid Meddlin." In April 1943, she took over the paper's drama and theater columns—Headlines and Footlights. Shortly thereafter, Washington began editing the entertainment section for the paper and contributing several columns covering culture: "Fredi Says."1, "Odds & Ends," as well as feature stories on politics and culture.
Washington's new career at The People's Voice coincided with the launch of the "Double V" campaign by the Pittsburgh Courier. Inspired by a letter to the editor, in which cafeteria worker James Thompson called for black Americans to embrace a "Double V" campaign for "a double victory in a two-front war. The first V represented victory over the enemies abroad; the second V stood for victory over the enemies from within," or US-style white supremacy.2 Washington became a powerful spokesperson for the Double V campaign, using her columns to criticize the treatment of black soldiers, as she did in printing a letter from a "white soldier" who exposed the realities of life in a segregated military and lobbying the state department to allow black artists to go overseas to entertain troops. 
The People's Voice gave Washington free rein over what she covered for the paper and her feature writing and columns contain important criticisms of media's racism and sexism, as well as coverage of progressive media work that challenged stereotypes and pointed in the direction of social change. In 1943, for example, Washington wrote about Margaret Webster's groundbreaking production of Shakespeare's Othello, featuring Paul Robeson as Othello, Jose Ferrer as Iago, and Uta Hagen as Desdemona. "Othello," Washington wrote in her feature piece on the play, "has been interpreted through the centuries mostly by white men," reminding her readers that "Ira Aldrich, the American Negro Shakespeare actor, played the role in the middle Nineteenth Century in the great cities of Europe, but never in this country." Washington commended Uta Hagen as a "rabid anti-fascist [who] feels it an honor and privilege to lay opposite Mr. Robeson, thereby striking at the heart of the racial myth." 3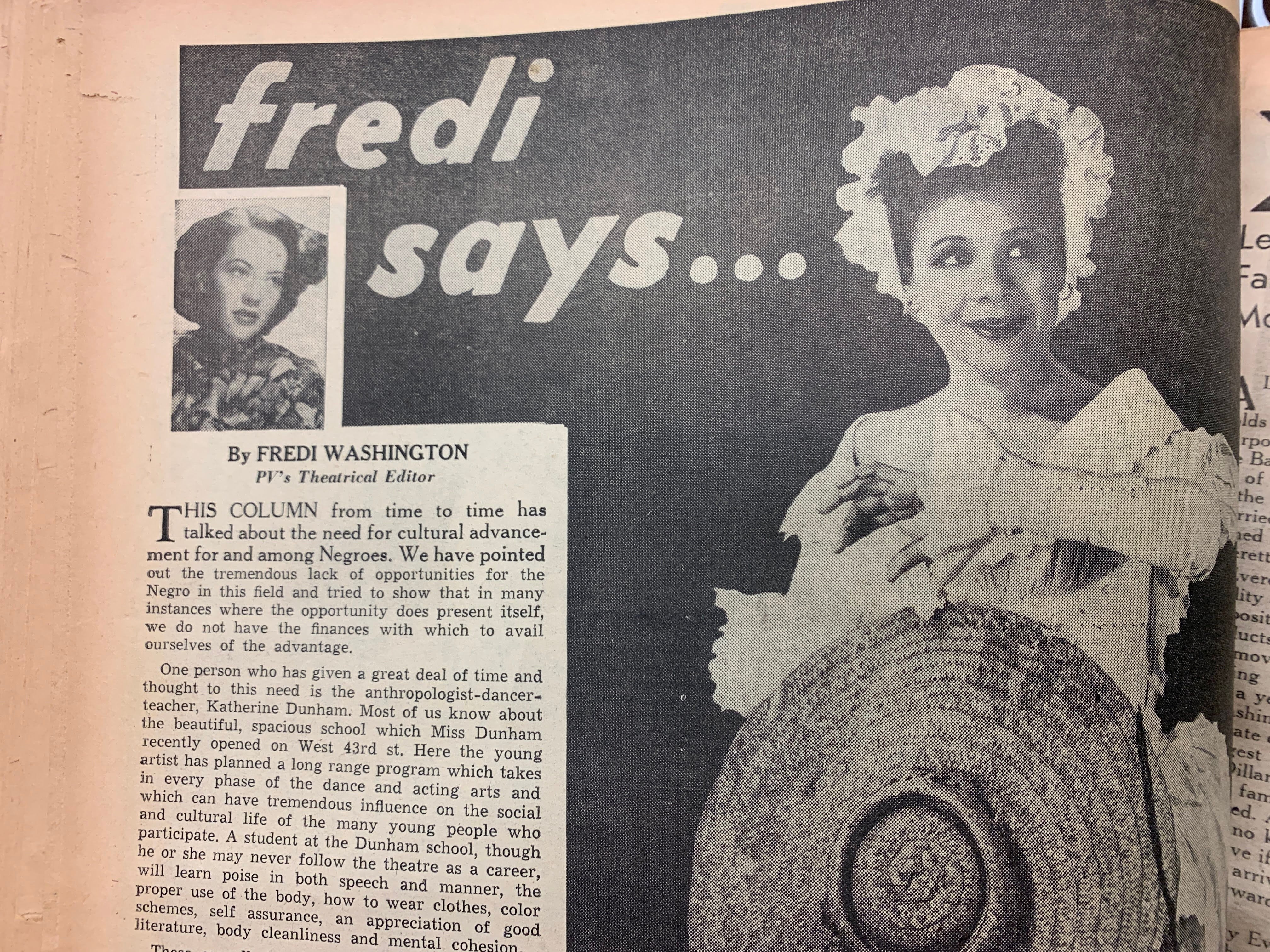 Washington concluded the article with a call to action that became a trademark of her journalistic writing. The play, she wrote, "is a chalk-up for democracy and a blow to fascism, limited though it be to reach into those parts of the country which need it most. But who knows. Maybe the time is not too far distant when the dynastices of the far-reaching picture world will become adult enough to shoulder their full democratic responsibilities to the extent of filming Othello with an authentic black Moor and a lily-white Desdemona . . . for all the small-minded unjust elements of our country, scatterered throughout like wind-blown seeds, to see, digest, and become enriched thereby." 4
Washington also used her column to launch powerful criticisms of Hollywood stereotypes. When the NAACP organized a campaign against racist stereotypes in Walt Disney's The Song of the South, actress Hattie McDaniels wrote a letter to columnist Hedda Hopper defending the film. Decrying the mammy roles that McDaniels was forced to play as well as what she understood to be McDaniels' complicity with these stereotypes, Washington observed that by relegating McDaniels and others to these roles, "movie-goers who have no contact with Negroes have no other means of finding out that off the screen she and countless other Negro females live an entirely different kind of life." (Fredi Says, April 26, 1947, p. 22) "Wake up Hattie," Washington wrote, "no one is riding you for the mammy roles you must play, but I for one am riding you for your defense of the overall picture these roles create in the minds of the movie going public." (Ibid). Washington ended her criticism with another call to action, telling readers to join the Cutlural Division of the National Negro Congress, an organization that inteneded to "get better roles" for black actors, "depicting us as part of the day to day American scene." (Ibid)
Between 1943 and 1948, Washington wrote over 200 articles for The People's Voice, work constituting a significant body of media criticism. 
Washington was married twice. She married Lawrence Brown, a trombonist in the Duke Ellington Band, in 1933 and remained married to Brown until 1951. 5  Washington married again in 1952, to Hugh Anthony Bell, a dentist.6
1. MJC, "Our Four Star Washington Gal," The People's Voice, August 14, 1943.
2. Davis, "Fredi Washington: Black Entertainers and the 'Double V' Campaign," 35.
3. Fredi Washington, "First Nighters Forget Social Taboos as Bard's 'Othello' Comes to Life," The People's Voice, October 23, 1943.
4. Washington.
5. http://www.aaregistry.org/historic_events/view/fredi-washington-actress-depth; Black, "Looking White, Acting Black".
6. http://www.aaregistry.org/historic_events/view/fredi-washington-actress-depth[/fn] Washington died of pneumonia in June 1994 at the age of 90. 
Washington was politically active throughout her lifetime. She was one of the founders of the Negro Actors Guild and served as their executive secretary from 1937 to 1938. 1 Washington also served as the administrative secretary for the Joint Actors Equity-Theater League Committee on Hotel Accommodations for Negro Actors. Through Actors Equity, she fought to secure hotel accommodations for black actors and she advocated for better representation of blacks in the arts through the NAACP.2 She supported Communist councilman Benjamin J. Davis—her backing of him was also noted in her FBI file.
Washington also lobbied for the Dyer Anti-Lynching Bill, the reelection of Franklin Roosevelt, and helped organize the Cultural Division of the National Negro Congress. 3  Later in her life, she became an advocate for environmental issues.4
Washington came to the attention of the FBI in the 1940s. On July 22, 1944, the Federal Bureau of Investigation initiated a "new main file" on Fredi Washington, "a Negress and a writer for the pro-Communist Negro newspaper in New York City, 'The People's Voice.'" This memorandum was written in response to Washington's May 27, 1944 column, in which Washington stated that while she wasn't a member of the Communist Party, it was clear that anti-Communism as a movement was being funded and supported by white supremacists.5
1. Ibid.
2. Darden, "Oh, Sister! Fredi and Isabel Washington Relive '30s Razzmatazz."
3. Black, "Looking White, Acting Black".
4. Darden, "Oh, Sister! Fredi and Isabel Washington Relive '30s Razzmatazz."
5. E.H. Winterrowd, "Re: Fredi Washington, Security Matter (C)," FBI Memorandum, Washington, DC: July 22, 1944, FBI #100-330386.
But the FBI had been keeping an eye on Washington prior to establishing a file on her as part of their surveillance of The People's Voice. In late December 1943, for example, a Bureau file referenced her November 20, 1943 Headlines & Footlights column, that noted that of 750 artists sent to entertain troops abroad, only five were Black and that if the US wanted to win the war, the War Department needed to address segregation at all levels in the military. The FBI report worriedly concluded, "It appears that this may be made a new subject for agitation by Negro newspapers and organizations."1
Although Fredi Washington was no longer performing in film by 1950, she had appeared in episodes of The Goldbergs. Still, her inclusion as a suspected communist in Red Channels was somewhat surprising, since she had been working most steadily as a journalist throughout the 1940s. The anti-communist blacklist surely ended her career as a journalist. Not only was Washington, along with other writers sympathetic to Communism (Doxey A. Wilkerson, Ann Petry, Marvel Cooke, and St. Clair Bourne, she left the People's Voice in early 1947.
1. "Subject: Negro Criticism of U.S.O. Entertainment Overseas, New York: FBI, December 22, 1943, FBI #100-81380-2.
Filmography
Square Joe (1922)
The Letter (1929)
Black and Tan Fantasy (1929)
Hot Chocolates (1929)
Animal Crackers (1930)
The Emperor Jones (1933)
The Old Man of the Mountain (1933)
Mills Blue Rhythm Band (1934)
Cab Calloway's Hi-De-Ho (1934)
Imitation of Life (1934)
Drums of the Jungle (1935)
Ouanga (1936)
One Mile From Heaven (1937
Awards
Black Filmmakers Hall of Fame (1975)
Lifetime achievement award from the Detroit City Council (1979)
AUDELCO award (1981)
Stage Productions
Shuffle Along (1921)
Black Boy (1926)
Great Day (1929)
Hot Chocolates (1929)
Sweet Chariot (October 1930)
Singin' the Blues (September 16, 1931 – October 24, 1931)
Run, Little Chillun (March 1, 1933 – June 17, 1933)
Mamba's Daughters (January 3, 1939 – May 1939; March 23, 1940 – April 6, 1940)
Lysistra (October 17, 1946 – October 19, 1946)
A Long Way From Home (February 8, 1948 – February 15, 1948)
How Long Till Summer (December 27, 1949 – December 31, 1949)
The Triumph of the Egg (1950)
Soldadera (1950)