Lillian Hellman was born on June 20, 1905 in New Orleans, Louisiana. Her mother, Julia Newhouse, was the daughter of an affluent Southern family. As Hellman biographer Alice Kessler-Harris put it, Lillian Hellman's father—Max Hellman—"had nothing to recommend him but charm."[Alice Kessler-Harris, A Difficult Woman: The Challenging Life and Times of Lillian Hellman, London: Bloomsbury, 2012, 16. Hellman's family moved north to New York City when she was a small child, but returned frequently to New Orleans throughout her childhood. Hellman later described herself as a rebel, a label that would stick:
"I was rebellious when I was four years old, I think, and a nuisance, too. All rebels are nuisances too."
After graduating from the Wadleigh High School for Girls in Manhattan, Hellman attended New York University and later took courses in journalism at Columbia University. She landed her first job in 1924, reading manuscripts at the new publishing firm of Boni and Liveright. She wrote her first play with a Boni and Liveright colleague, Louis Kronenberger. Titled Dear Queen, it was about "a royal family who wanted to be middle class people."[Kessler-Harris, 76]. The comedy was never produced, according to Hellman, because no one else found it funny.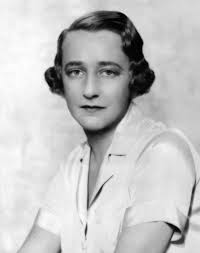 Hellman moved to Hollywood with husband Arthur Kober in 1930, where she found a job at Metro-Goldwyn Mayer summarizing novels and short stories for adaptation as screenplays. She complained of her work at MGM that "you had to write the kind of idiot-simple report that Louis Mayer's professional lady storyteller could make even more simple when she told it to Mr. Mayer."
Hellman's next play, The Children's Hour, opened in 1934 and was an immediate hit. Although the film is best remembered for the scandal it caused by hinting at lesbianism, according to Hellman, the play was about the terrible power of slander, a theme that presaged attacks on progressives that were then underway by anti-communists.
Buoyed by the success of The Children's Hour, Hellman co-wrote the screen play for Dark Angel and Dead End (1937). She also contributed to the films The Melody Lingers On (1935) and The Westerner (1937), as well as the documentary The Spanish Earth (1937), although she received no credit for these.
The best that Lillian Hellman had to say of Los Angeles was, "it's unbearable to any civilized person as a mere visitor, but with something to do it's no worse than being in jail."
In 1939, her play about a Southern family—The Little Foxes (the title was provided by Hellman's close friend, writer Dorothy Parker) opened on Broadway. Her anti-fascist classic, Watch on the Rhine, opened in 1941. Hellman continued to write for the stage throughout her life—even through the lean years of the blacklist. Her final play, Toys in the Attic (like The Little Foxes about a Southern family), which opened in 1960, is considered by many to be her best.
In the late 1960s and 1970s, Hellman turned to the genre of memoir writing, penning three works on the topic of her life: An Unfinished Woman (1969), Pentimento (1974), and Scoundrel Time. The film Julia, based on a story in Pentimento, was made into an academy-award winning film in 1977.
For a successful women writer, writing in a feminized genre, these memoirs and the success of Julia in particular elicited a series of attacks on Hellman's veracity, made mainly by other women authors. Mary McCarthy described her as "dishonest writer" on the Dick Cavett Show in 1979, causing Hellman to sue McCarthy and Cavett for slander. In 1980, Martha Gellhorn, Ernest Hemingway's first wife, followed up on this by saying that Hellman had pass off fiction for fact in her depiction of Hemingway in An Unfinished Woman. In 1983, psychoanalyst Muriel Gardiner claimed in her own memoir that her life was the basis for the character of Julia.
Lillian Hellman on her Memoir "Pentimento" from BillMoyers.com on Vimeo.
Hellman married Arthur Kober in 1925. The two were divorced in 1932. Hellman met writer Dashiell Hammett in 1929 and the two maintained a relationship until Hammett's death in 1961. Lillian Hellman died in Tisbury, Massachusetts on June 30, 1984.
Plays
The Children's Hour (1934)
Days to Come (1936)
The Little Foxes (1939)
Watch on the Rhine (1941)
The Searching Wind (1944)
Another Part of the Forest (1946)
Montserrat (1949) (English-language adaptation of the play by Emmanuel Robles)
The Autumn Garden (1951)
The Lark (1955) (English-language adaptation of Jean Anouilh's play L'Alouette)
Toys in the Attic (1960)
My Mother, My Father and Me (1963) (based on Burt Blechman's novel How Much?)
Candide (operetta) (1956) (book, with Hugh Wheeler)
Screenplays
The Dark Angel (1935) (with Mordaunt Shairp; based on the play by Guy Bolton)
These Three (1936) (based on her play The Children's Hour)
Dead End (1937) (based on the play by Sidney Kingsley)
The Little Foxes (1941) (based on her play)
The North Star (1943)
The Searching Wind (1946) (based on her play)
The Chase (1965) (based on the play and novel by Horton Foote)
Memoirs, etc.
An Unfinished Woman: A Memoir (1969)
Pentimento: A Book of Portraits (1973)
Scoundrel Time (1976)
Maybe: A Story (1980)
Eating Together: Recipes and Recollections, with Peter Feibleman (1984)