Biography
By Carol Stabile, Jeremiah Favara, and Laura Strait
Louise Fitch (1914–1996) was an actress on radio, television, and in films. She began performing in radio in Chicago in the 1930s and went on to act in a number of television shows and films.
Fitch was born in Omaha, Nebraska on October 18, 1914. Her parents were Leo Fitch and Fannie Riekes. Leo Fitch was an Orthodox Jew who had fled Russia. Fitch had three brothers: Marvin, Vernon, and Avrum. Fitch was raised and attended high school in Council Bluffs, Iowa. She attended Creighton College in Omaha for two years before taking a job at a radio station in Omaha, where she took a job as a stenographer before segueing into announcing and acting. At the age of 22, Fitch moved to Chicago to pursue a career as a radio actress.
Fitch's performance career began in the 1930s acting in radio shows in Chicago. While in Chicago, Fitch had roles in a number of radio shows including Scattergood Baines, That Brewster Boy, Backstage Wife, Two On a Clue, and Road to Life.  

 
In the summer of 1943, Fitch moved to New York City and began performing in television shows. She then moved to Los Angeles in 1950 to work in films, appearing in the horror film Blood of Dracula in 1957, as well as other films. 
In 1938, Fitch married Beverly Hills attorney Jerome B. Rosenthal. Fitch and Rosenthal had a daughter before divorcing in 1942. Fitch married Jerry Lewis, a writer, in fall of 1947. Together, Fitch and Lewis had two children.
Fitch died on September 11, 1996 at the age of 81.
Blacklist
In 1952, the FBI started an investigation of Louise Fitch. They suspected her of what the Bureau loosely defined as subversion for several reasons. First, her name had been included, a year and a half earlier, in Red Channels. Her brother, Marvin Fitch, had come to the Bureau's attention in 1949, as part of a broader investigation of the Association for Educational Assessment in Africa. Fitch herself had been a member of the progressive wing of the American Federation of Radio Actors since 1937. And finally, Fitch's husband, Jerry D. Lewis, had been working as a script writer for the television show, This is Your FBI, since 1945. With the FBI's endorsement (the show's producer attended new agent training sessions), the show's sponsor's punchline was: "To your FBI you look for national security, and to your Equitable Society for financial security. These two great institutions are dedicated to the protection of you, your home, and your country!"
The Bureau's investigation of Fitch blended rancor and rumor. One informant admitted that even though "he could not furnish any information concerning membership of Louise Fitch Lewis in Communist front organizations," he did not believe that any member of Fitch's family "could be trusted with confidential data involving security of the United States since pro-Communist sympathies were obviously inherited at an early age." Another "confidential source" told the Bureau that Louise Lewis subscribed to the Daily People's World, the Communist Party's west coast newspaper.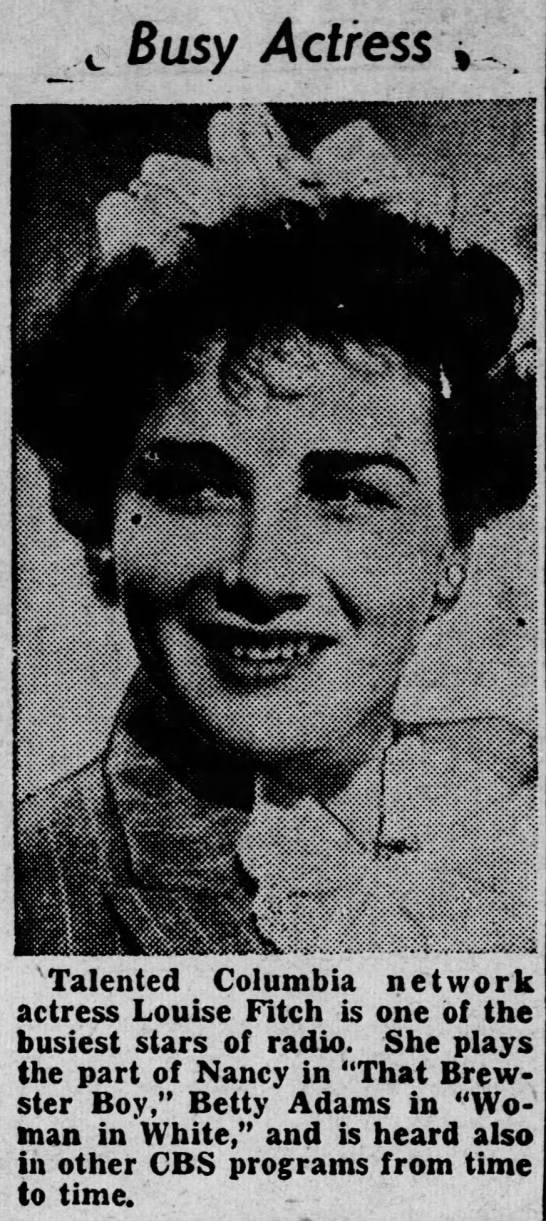 Of course, neither Fitch nor her husband had access to confidential data, much less data "involving security of the United States." And it swiftly became clear that the Bureau was not interested in Fitch herself, but was worried about the taint of the blacklist tarnishing the FBI's reputation. Specifically, they were worried Jerry D. Lewis' employment by This is Your FBI might reflect poorly on the Bureau's image. Bureau public relations guru Louis B. Nichols, whose connection to the House Un-American Activities Committee (HUAC) ran two ways, claimed to have heard the HUAC might launch an investigation of Fitch. The anti-communist web very quickly began to close in around Fitch. Devine admitted to the FBI that "he did not get along particularly well" with Fitch, who in his estimation "played the field" when she moved to New York, before settling on Lewis before "it appeared that he was the best bet of the group she was running around with." According to Devine, "he didn't like the way she had played Jerry Lewis."
 
Nichols contacted Devine to warn him of an alleged and imminent investigation of Fitch. Devine immediately contacted Lewis, who took the next plane out to Washington, D.C. to talk to Nichols himself. Lewis told Nichols a lengthy story about Fitch's involvement with the Communist Party, which began, he said, in 1943, when she was a single mother supporting a daughter from her first marriage. According to her husband, she had "ceased having anything to do with Communists, late in 1946 or 1947."
Lewis had no idea, he told Nichols, of Fitch's previous political affiliations. In fact, Lewis added, "had he known she was a member of the party he would never have married her." He also volunteered Fitch was willing to get "back into the party on behalf of the FBI" and provide intelligence on the party's activities.
Lewis flew to Washington, D.C. because he understood his job was in jeopardy. He and Fitch were supporting two children under the age of five, plus Fitch's daughter from her previous marriage. Fitch had had trouble finding work since the publication of Red Channels. 
But Lewis' lengthy and desperate explanation to Nichols was insufficient. At the end of the interview, Nichols told Lewis "quite frankly that I was going to think about the situation, that the whole matter could be exceedingly embarrassing and my first responsibility was to the FBI, that the personal considerations involved were secondary." To Clyde Tolson, J. Edgar Hoover's second-in-command, Nichols wrote, "I think we should make a searching investigation of Louise Fitch. I think she should be interviewed and while there might be considerations which. Might make it desirable to let her go back into the party, I am not too enthusiastic about this prospect. I am inclinded to tell Jerry Devine to break in another writer and quietly ease Jerry Lewis out."
Within a week, Fitch had sent a 12-page statement to the Los Angeles Field Office, providing details of her membership in the Communist Party and providing details of her activities, as well as the names of 53 people she identified as communists or fellow travelers. A few days later, Fitch was interviewed for four hours by agents from the Los Angeles Field Office. The FBI urged the producer of the show "This is the F.B.I." to remove Fitch's husband, Jerry Lewis, from his role as a writer for the show. The show ran on ABC on Friday nights through 1952, and then lingered for another year as a sustainer. Lewis' plea to the FBI might have saved his job temporarily, but within a year it was off the air. Although Fitch struggled to find recurring roles, she did manage to work in television after being blacklisted, occasionally picking up uncredited work, along with minor roles on a wide range of genres and series.
Google Drive: See Louise Fitch's FBI File.
Filmography
Blood of Dracula (1957)
The Mechanic (1972)
Starbird and Sweet William (1973)
The Lost Manuscript (1974)
Opening Night (1977)
True Confessions (1981)
Wedding Band (1989)
The Soft Kill (1994)
TV Appearances
Mike Hammer (1959)
Goodyear Theatre (1959)
M Squad (1959)
General Hospital (1963)
The Eleventh Hour (1963)
Perry Mason (1963)
Ben Casey (1962-1964)
Slattery's People (1964)
Bonanza (1969)
Death Valley Days (1967-1969)
Mod Squad (1969)
The Streets of San Francisco (1972)
The F.B.I. (1972)
The Doris Day Show (1973)
Big Town (1955)
Front Row Center (1955)
Adventures of Superman (1955)
Climax! (1955)
Dragnet (1956)
Noah's Ark (1956)
The Lone Ranger (1957)
The Vampire (1957)
I Was a Teenage Werewolf (1957)
Lux Video Theatre (1956-1957)
Studio 57 (1957)
TV Appearances (continued)
Leave It to Beaver (1957)
The Court of Last Resort (1958)
Bachelor Father (1958)
The Walter Winchell File (1958)
Panic! (1958)
The Donna Reed Show (1958)
S.W.A.T. (1975)
Medical Center (1969-1975)
The Rockford Files (1975)
McNaughton's Daughter (1976)
Serpico (1976)
Ziegfeld: The Man and His Women (1978)
Charlie's Angels (1979)
CHiPs (1981)
The Miracle of Kathy Miller (1981)
Magnum, P.I. (1981)
Simon & Simon (1982)
Dynasty (1982)
Hart to Hart (1981-1983)
Quincy M.E. (1979-1983)
Trapper John, M.D. (1983)
St. Elsewhere (1983)
Airwolf (1985)
V (1985)
The New Leave It to Beaver (1987)
The Twilight Zone (1987)
Mr. Belveder (1988)
Murder, She Wrote (1989)
Santa Barbara (1990)
Columbo (1990)
The Perfect Bride (1991)
Dangerous Women (1991)
Deception: A Mother's Secret (1991)
Tales from the Crypt (1992)
Phenom (1994)