Madeline Lederman was born on May 23, 1923 in the Bronx. Her Jewish parents had immigrated from Poland. Her father was a trade unionist and her mother was a "Socialist-Pacifist-Atheist-Feminist." At the age of 14, Lee became a member of the American Student Union, an anti-Fascist peace group. She began performing in radio and on stage at the age of three and continued to work as a radio and theatre actor while a high school student, gravitating toward the political theatre scene in Manhattan.
She starred with Ethel Barrymore in the 1944 play Embezzled Heaven and assisted lyricist E.Y. (Yip) Harburg during productions, including the film Jamaica, starring Lena Horne.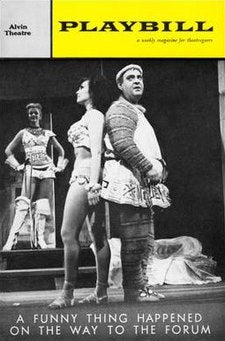 The blacklist all but ended Lee's career and for decades afterwards, work was scarce. She later produced two Broadway shows (The World of Sholom Alecheim and the musical Rags). She had small parts in numerous movies and television series, including Save the Tiger, Cocoon: The Return, The Savages, and Law & Order.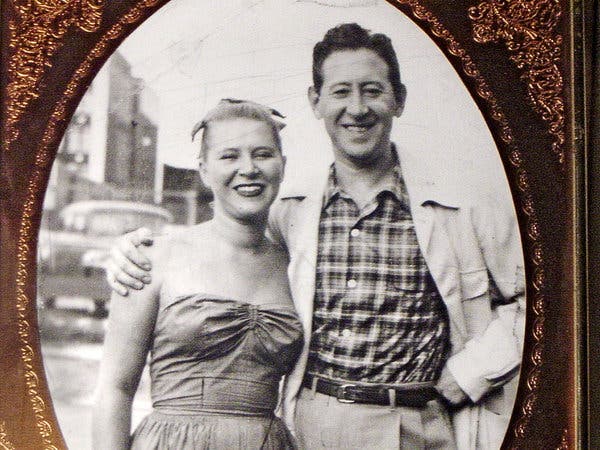 In 1978, Gilford co-authored a memoir with her friend Kate Mostel, entitled 170 Years in Show Business.
Lee remained politically active throughout her life. In addition to her work in industry trade unions, she helped organize civil rights demonstrations and was close to the dais during Martin Luther King's 1963 "I Have A Dream" speech at the Lincoln Memorial. In 1999, she was arrested during a civil disobedience protest over the police shooting of Amadou Diallo.
In 1940, she was married to an industrial engineer named Mitchell Fein. She met actor Jack Gilford at a political meeting in 1947. Lee divorced Fein in 1948. She married Gilford in 1949 and the two remained married until Jack's death in 1990.
Lee died on April 14, 2008 in Greenwich Village.
In 1950, both Madeline Lee and Jack Gilford were listed in Red Channels. The couple had been of interest to anti-communists for some time, as part of a tightly-knit group of leftists active in the American Federation of Radio Actors, and with their close friend Philip Loeb, Actors Equity.
Three years later, on May 5, 1953, choreographer Jerome Robbins told the House Un-American Activities Committee that the couple were members of the Communist Party. According to Lee, the impact of Robbins' testimony was swift: the two found it difficult to find employment and were forced to rely on loans from friends and unemployment to get by.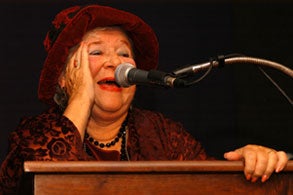 In the aftermath of Robbin's testimony, the Gilfords also were subjected to intensive and sustained FBI surveillance. According to lee, for months, FBI agents sat in cars across the street from the couples' Greenwich Village apartment to spy on them. Agents rifled through their trash and mail, questioning neighbors and friends to dig up information about the Gilfords' allegedly subversive activities. Lee told the New York Times that the superintendent of her building "had a son in jail for armed robbery and she hated the F.B.I. So she considered us in trouble the same way she was. She would tell us that they would come on the first Tuesday: 'They've been here. They wanted to look in your garbage. They wanted to look at the mail that has been thrown out.'"
Agents reported that Madeline Lee, best known for making "baby sounds" for radio and television programs, "spends much of her time caring for her two young children and seldom leaves the apartment house without them."
The unemployed mother of three was subpoenaed (or "commanded to appear," as the language of her subpoena read) before a HUAC subcommittee in New York. When the committee demanded to know whether she was, or had ever been, a member of the Communist Party, she pled the First and Fifth Amendments. Asked if she had marched in a May Day parade in 1942, Lee retorted, "Look, I'm a comedian, not Joan of Arc. The words 'recant,' 'confess,' 'you're a heretic' are not exactly my dish."
Lee's "defiance," as subsequent Bureau reports put it, infuriated FBI director J. Edgar Hoover, and put Lee squarely in the sights of the Cold War security state. Subsequent reports emphasized "her truculent attitude towards the House Committee and her effort to denounce it," noting Lee had "received complimentary notoriety in CP press for her uncooperative attitude before hearings of [the] House Un-American Activities."
The Bureau placed Lee on their Security Index, a secret list of dissidents Hoover hoped to be able to arrest in the event of a communist takeover of the U.S. government. Until that time, the list allowed the FBI to subject people to even more aggressive surveillance and harassment campaigns.
Delores Scotti, a Bureau investigator, ambushed Lee and her children as she was picking up mail outside the family's vacation home on Fire Island to serve a second subpoena to appear before the New York City Un-American Activities Committee. Scotti was reported to have told Lee, "Cooperate with us or we will tell your employees that you are a Communist. We've got plenty on you. Look what you're doing to your children." Scotti claimed Gilford "struck" her "with magazines she was carrying," although the charge was later dismissed.
For her part, Lee charged the committee with trying to coerce her into giving false testimony. In the words of an article that appeared in the Communist Party paper the Daily Worker, "The un-American invasion of Broadway got a staggering repulse last week in its moth-eaten thought-control hearings … when Madeline Lee, TV actress, revealed in a tumultuous, gavel-banging session that two committee agents came to her home and tried to browbeat her into giving false testimony."
"The only conspiracy I know about in the entertainment industry," Lee maintained, "is the one of blacklisting by Aware, Inc., Red Channels, and CounterAttack."
Years later, the indomitable Madeline Lee told a reporter, "You have no idea of the impact on personal lives, on families. Divorces, suicides, illnesses, heart attacks." Lee remained politically engaged until her death: she was active in the Civil Rights Movement in the 1960s: she was close to the dais for Martin Luther King's a"I have a Dream" speech in 1963 and in 1965 and 1966, she organized fundraising events for the Student Non-Violent Coordinating Committee in New York City. In 1999, at the age of 76, Lee was arrested for civil disobedience in a protest following the police murder of Amadou Diallo in New York city. Google Drive: View Madeline Lee Gilford's FBI File
Film 
Little Women (TV Movie) (1946)
Parades (1972)
Save the Tiger (1973)
Fear on Trial (TV Movie) (1975)
Roseland (1977)
A Secret Space (1977)
Lianna (1983)
Cocoon: The Return (1988)
That Old Feeling (1997)
Big City Blues (1997)
The Beat Goes On (2000)
And Starring Pancho Villa as Himself (TV Movie) (2003)
Raw Footage (2005)
The Savages (2007)
Uncertainty (2008)
Television
Mad About You (1998)
The Beat (2000)
Law & Order (1994-96) 
Stage (producer)
Rags (Aug 21, 1986 - Aug 23, 1986)
The World of Sholom Aleichem (Feb 11, 1982 - Feb 28, 1982)
Stage (actor)
Threepenny Opera (Sep 20, 1955 - Dec 17, 1961)
Embezzled Heaven (Oct 31, 1944 - Jan 13, 1945)