Biography
By Carol A. Stabile, Jeremiah Favara, and Oshrit Livne
Born Shaindel Kalish on January 15, 1910 in Chicago, Illinois, actress Ann Shepherd appeared on television, radio, and the stage. Her parents were Abraham Kalish, a Yiddish Theater producer, and Esther Naidith.1 Her father was a successful comedian who performed under the name Al Kelly. Shepherd attended Marshall High School in Chicago and began her acting career with the Jewish People's Institute, a historic community center in Chicago founded by her father.2
Shepherd starred in radio's 1933 "Jack Armstrong, The All American Boy" and NBC's radio horror show "Lights Out." Her breakthrough performance in Girls in Uniform in 1934 took place at the Blackstone Theater in Chicago. Her performance as Manuela was highly praised, and she was called "an actress of great promise" and "one of the best young Jewish actresses ever to tread a theater stage in the United States."3 She went on to play the role of Irene Lawrence in the play Sixteen, which also was warmly received by critics.4 Kalish then appeared under the name Ann Preston in the films Parole! (1936) and The Magnificent Brute (1936). She also appeared in the film Wanted! Jane Turner (1936) under the name Judith Blake. She also played the title role in the radio program, Joyce Jordan, M.D. in 1941.
Following her success in Hollywood, Kalish returned to New York to pursue stage work.5 Using the name Ann Shepherd, she appeared in Broadway productions of Sophie (1944), Truckline Café" (1946), and All My Sons (1947).6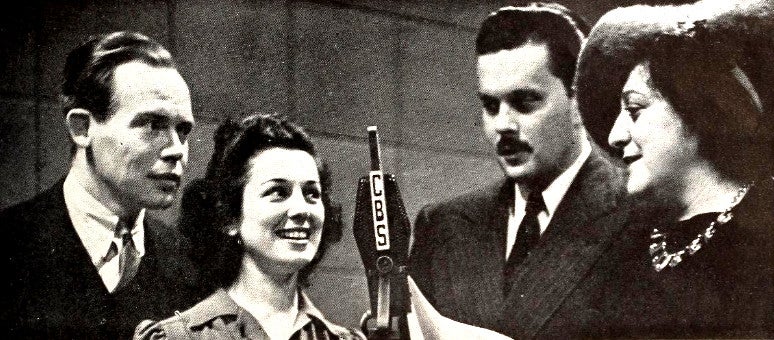 Shepherd appeared in film, television, radio, and the stage under many names, including Shaindel Kalish, Shaindel Kalish Freeman, Ann Preston, Judith Preston Blake, Ann Mann, Ann Shepherd, Jennie Shaludel Libman, and Ann S Sheps. She also appeared in Hollywood films under the names Ann Preston and Judith Blake. The use of pseudonyms Ann Preston and Judith Blake were attributed to the machinations of Hollywood studios, a move that some saw as concessions to the industry's anti-Semitism that undermined Kalish's growing reputation as a serious and promising stage actress.7
1. Chana Pollack, "Throwback Thursday: A Yiddish Actress of Many Names," The Forward, January 30, 2014.
2. "Star of Future in'Girls in Uniform," Chicago Sunday Tribune, March 18, 1934, 79.
3. The Decatur Herald, Decatur, IL, August 11, 1936.
4. Charles Collins, "Shaindel Kalish Plays Different Role in 'Sixteen,'" Chicago Daily Tribune, Chicago, IL, February 18, 1935, 13.
5. Larry Wolters, "New of Radio," Chicago Tribune, Chicago, IL, June 17, 1937.
6. The Play: An Unhappy Sophie, New York Times, December 26, 1944, 22.
7. The Decatur Herald, August 11, 1936; Detroit Free Press (Detroit, MI), July 12, 1936.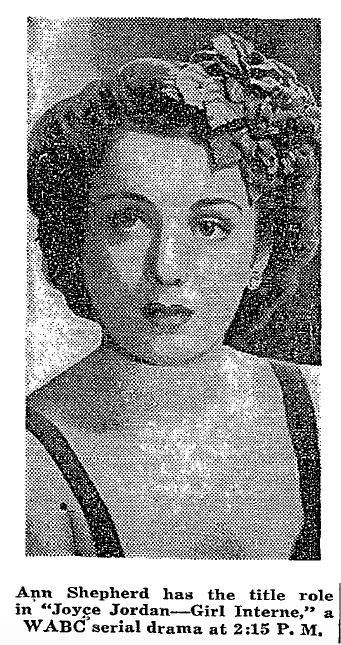 Shepherd acted in a 1944 production put on by Stage for Action, a progressive theatre company.8 In the late 1940s, Shepherd appeared in television shows, including appearances on Actor's Studio and "Lights Out." She was also featured in a 1945 television version of "The Bourgeois Gentleman" under the name Judith Blake.9
In the 1930s, Shepherd was married to Charles K. Freeman, a director who she worked with on "Girls in Uniform."10 Shepherd later married Yisrol Paul Mann Libman, an actor and director, and went by the name Jennie Shaludel Libman while married to Libman.11
Shepherd died in Chatham Country, North Carolina on November 30, 2002. At the time of her death, she went by the name Ann Kalish Sheps.
8. "'Sheppey,' Somerset Maugham's Play, Will Arrive Tonight at Playhouse, Edmund Gwenn Is Cast in the Leading Role," New York Times, April 18, 1944, 24.
9. The Wisconsin Jewish Chronicle, Milwaukee, WI, October 23, 1936.
10. Famous Drama Gets Premiere at Blackstone, Chicago Sunday Tribune, Chicago, IL, March 11, 1934; Dale Armstrong.

Los Angeles Times

,Los Angeles, California, 18 July 1937, p. C10.

11. United States Congress House Committee on Un-American Activities, Hearings, Washington, D.C., 1958.

In New York City, Shepherd worked with the American Federation of Radio Artists (AFRA).1 Her union work in AFRA as well as her creative work in progressive theater groups like Stage for Action and the leftist Group Theatre brought her to the attention of anti-communists intent on eradicating progressive influence from radio and television.
Shepherd was listed in Red Channels in 1950 and was fired from CBS. She learned to type and worked for the New York Federation of Jewish Philanthropies before taking a teaching position at the University of North Carolina at Chapel Hill, where she taught for years.2
During the 1960s, Shepherd was also listed as a faculty member teaching theatre at the Uta Hagen Herbert Berghof Studio in New York City (Hagen was also blacklisted).3
Radio
Just Plain Bill (1932)
Masquerade (1935)
Eyes of Youth (1935)
Nickelodeon (1935)
Joyce Jordan, Girl Interne (1938)
Big Sister (1936)
Everyman's Theater (1940)
Green Valley, U.S.A. (1942)
Hilda Hope, M.D. (1939)
CBS Radio Mystery Theater (1975)
Stage
Girls in Uniform (1933)
Sixteen (1935)
Sophie (1944)
Truckline Cafe (1946)
All My Sons (1947)
Film
Parole! (1936)
Magnificent Brute (1936)
Wanted: Jane Turner (1936)
Television
Big Sister (1945)
Women in Wartime (1945)
Actors Studio (1948)
Danger (1951)
Dark Destiny (1952)