Biography
By Jeremiah Favara and Carol A. Stabile
Marsha Hunt is a film, stage, and television actress. Hunt's acting career spanned eight decades and she appeared in six Broadway productions, forty-eight television series and sixty-seven films.1 Hunt dedicated much of her later life to humanitarian work. She lives in Sherman Oaks, California.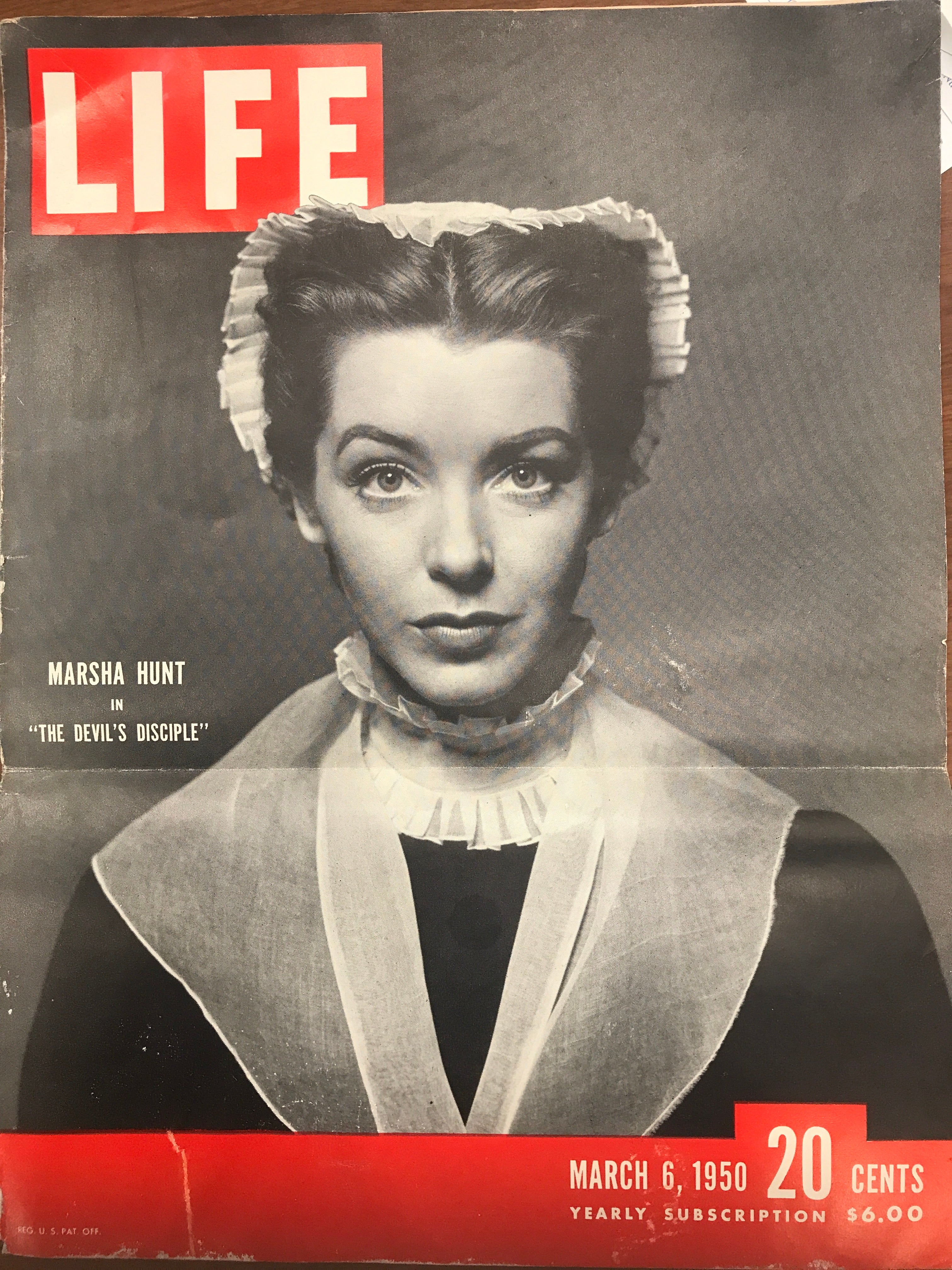 1https://www.ibdb.com/broadway-cast-staff/marsha-hunt-45984; http://www.imdb.com/name/nm0402554/?ref_=fn_al_nm_1
Hunt was born Marcia Virginia Hunt in Chicago on October 17, 1917. 1 Hunt's father was a scholar and her mother was a vocal coach.2 Growing up in New York City, Hunt first performed on the stage as a young child in Gilbert and Sullivan's HMS Pinafore.3 Hunt modeled and auditioned for radio shows before moving to Los Angeles to pursue a film career.4 Hunt attended Theodora Irvine's Studio for the Theater in Los Angeles. She came to the attention of  film studios after photos of her were published in the Los Angeles Times under the headline "Model Spurns Films."5 Shortly after the photos were appeared, Hunt was offered screen tests with four studios.6
Hunt's film career began in 1935 when she signed a contract with Paramount Pictures and appeared in the film The Virginia Judge (1935).7 Hunt went on to make a number of pictures with Paramount before working as a freelancer and later signing a contract with MGM Studios. Hunt appeared in over fifty films in the 1930s and 1940s.8 Hunt debuted on Broadway in Joy to the World in 1948, performing in five other Broadway productions in the 1950s and 1960s. 
Hunt married Jerry Hopper, the assistant head of the music department at Paramount, in November 1938.9 Hunt later married the writer Robert Presnell Jr.10
1Anthony Slide. Actors on Red Alert: Career Interviews with Five Actors and Actresses Affected by the Blacklist. Filmmakers Series, No. 67. Lanham, Maryland: Scarecrow Press, 1999.
2Ibid.
3Ibid.
4Ibid.
5Ibid.
6Ibid.
7Slide, Actors on Red Alert.
8http://www.imdb.com/name/nm0402554/?ref_=fn_al_nm_1
9Slide, Actors on Red Alert.
10Ibid.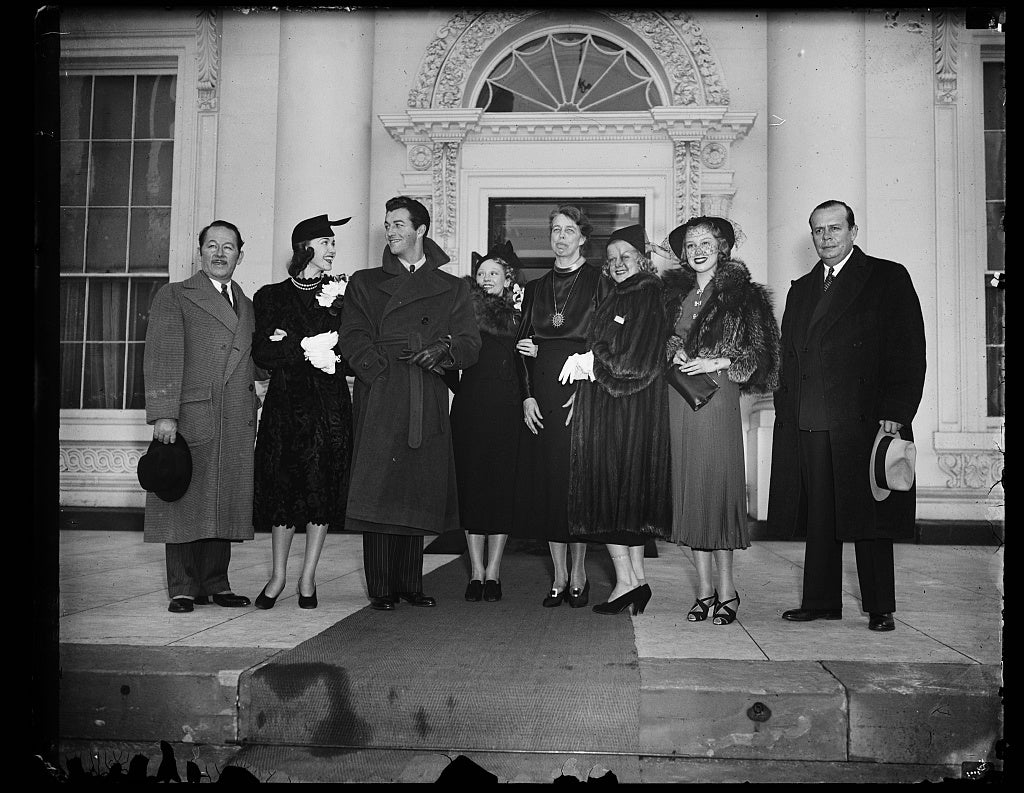 In October 1947, Hunt, along with other actors including Humphrey Bogart, Lauren Bacall, John Garfield, and Edward G. Robinson, flew to Washington, D.C. in support of the Hollywood Ten.1 Her support of the Hollywood Ten as a member of the Committee for the First Amendment, along with public support for the Hollywood Independent Citizens Committee of the Arts, Sciences, and Professions, led to her being listed in Red Channels in 1950. Being blacklisted negatively influenced Hunt's ability to continue her film career as did her subsequent refusal to apologize.2
Hunt refused to apologize for publicly supporting the Hollywood Ten in the late 1940s, saying that
I was told all I had to do to get my career back was take out a full page ad in the Hollywood trades and apologize, but I refused.3
Told to renounce her friends and name the names of communists, Hunt also refused to lie. 4  Hunt's film career slowed significantly following her being blacklisted in 1950. 
Film
The Virginia Judge (1935)
The Arizona Raiders (1936)
The Accusing Finger (1936)
College Holiday (1936)
Easy to Take (1936)
Gentle Julia (1936)
Desert Gold (1936)
Hollywood Boulevard (1936)
Annapolis Salute (1937)
Born to the West (1937)
Thunder Trail (1937)
Murder Goes to College (1937)
Easy Living (1937)
Come On, Leathernecks! (1938)
These Glamour Girls (1939)
Star Reporter (1939)
Winter Carnival (1939)
Long Shot (1939)
Joe and Ethel Turp Call on the President (1939)
The Hardys Ride High (1939)
Irene (1940)
Flight Command (1940)
Pride and Prejudice (1940)
Ellery Queen, Master Detective (1940)
I'll Wait for You (1941)
Blossoms in the Dust (1941)
Unholy Partners (1941)
The Trial of Mary Dugan (1941)
Cheers for Miss Bishop (1941)
The Penalty (1941)
Kid Glove Killer (1942)
The Affairs of Martha (1942)
Panama Hattie (1942)
Joe Smith, American (1942)
Seven Sweethearts (1942)
Cry 'Havoc' (1943)
Lost Angel (1943)
The Human Comedy (1943)
Pilot ♯5 (1943)
Thousands Cheer (1943)
Bride by Mistake (1944)
None Shall Escape (1944)
Music for Millions (1944)
The Valley of Decision (1945)
A Letter for Evie (1946)
Carnegie Hall (1947)
Smash-Up, the Story of a Woman (1947)
Raw Deal  (1948)
The Inside Story (1948)
Mary Ryan, Detective (1949)
Take One False Step (1949)
Jigsaw (1949)
The Happy Time (1952)
Actor's and Sin (1952)
Diplomatic Passport (1954)
A Word to the Wives (short) (1955)
No Place to Hide (1956)
Back from the Dead (1957)
Bombers B-52 (1957)
Legend of the Lost (1957)
Blue Denim (1959)
The Plunderers (1960)
Fear No Evil (1969)
Johnny Got His Gun (1971)
Jigsaw (TV Movie) (1972)
Terror Among Us (1981)
Chloe's Prayer (2006)
The Grand Inquisitor (short) (2008)
Empire State Building Murders (2008)
Television
Studio One in Hollywood (1949-50)
The Philco Television Playhouse (1949)
The Ford Theatre Hour (1949)
The Silver Theatre (1949)
Danger (1950)
Sure as Fate (1950-51)
Cosmopolitan Theatre (1951)
The Ford Television Theatre (1953)
The 20th Century-Fox Hour (1957)
The O. Henry Playhouse (1957)
Climax! (1957-58)
Panic! (1958)
Matinee Theatre (1958)
Alfred Hitchcock Presents (1958)
Peck's Bad Girl (1959)
Laramie (1959)
Grand Jury (1959)
The Detectives (1960)
Zane Grey Theater (1957-60)
The Americans (1961)
Cain's Hundred (1962)
Sam Benedict (1962)
Breaking Point (1963)
Gunsmoke (1964)
Channing (1964)
The Outer Limits (1964)
The Twilight Zone (1964)
The Defenders (1964)
Profiles in Courage (1964)
Ben Casey (1965)
Run for Your Life (1966)
My Three Sons (1967)
Accidental Family (1967)
The Outsider (1968)
The Name of the Game  (1969)
Fear No Evil (1969)
Marcus Welby, M.D. (1970)
The Young Lawyers (1970)
Ironside (1970-71)
Police Story (1974-75)
Harry O (1975)
Medical Story (1975)
Police Story  (1975)
The Mississippi (1983)
Murder, She Wrote (1985)
Matlock (1986)
Shadow Chasers (1986)
Star Trek: The Next Generation (1988)