By Jeremiah Favara and Carol Stabile
Ray Lev (1910 or 1912-1968) was a classical pianist. Lev had a thirty-year career as a pianist, playing annual recitals at Carnegie Hall in New York City and touring the world. Throughout her career, Lev was committed to supporting minority groups and foreign-born individuals. This commitment led to her being named in Red Channels and investigated by the FBI. 
Biography
Lev was born in Rostov-on-Don, Russia on May 8, either in 1910 or 1912. She came to the US with her father, Moses Lev, and mother, Deborah Lev, when she was an infant and the family sought refuge during the Russian Revolution. Her father was a cantor and Lev began singing in his choir in New Haven, Connecticut before hearing a piano recital and wanting to become a pianist. She attended James Madison High School, where she studied typing because of economic pressures at home. She completed two years of high school before winning a New York Philharmonic Symphony Society Scholarship that allowed her to concentrate on music. She subsequently spent the summers of 1927-1929 at East Blue Hill, Maine, where she studied with noted organist, pianist and composer Gaston Dethier. In 1930, she won the American Matthay Prize and went to London to study under Tobias Matthay, a pianist and composer, for three years.1 
Lev's debut performance occurred in 1931 at an Eastborne Music Festival in Eastbourne, England.2  She performed in London, at Wigmore Hall, a year later and gave two command performances at 10 Downing Street. She gave several recitals on the British Broadcasting Corporation network as well, before returning to the U.S. to make her debut at Carnegie Hall in 1934, where she played a Tchaikovsky concerto with the National Orchestral Association under Leon Barzin.3 Lev continued to perform at both the Town Hall and Carnegie Hall. Lev gave annual recitals at Carnegie Hall for much of her career.4
Her recitals were well attended and well received by critics. A 1944 review in The New York Times stated: "Lev, as usual, tackled an extremely ambitious program and played it with great energy and fire."6 Lev's annual recitals were known for her unique program selection, which combined classical pieces with shorter works by contemporary composers.7 Lev toured Europe frequently and also spent time in Japan performing and serving on the faculty of Tokyo University of Arts and Music. Lev played with a number of ensembles around the world, including the Japanese Philharmonic Symphony Orchestra, the Budapest String Quartet, and the Paganini and Gordon Quartets. Her final performance was on Sunday, April 28 with the Symphony of the New World at Philharmonic Hall in New York City.8
1. "Ray Lev is Dead; Concert Pianist," New York Times, May 21, 1968.
2. "Ray Lev is Dead; Concert Pianist," New York Times, May 21, 1968.
3. "Ray Lev is Dead; Concert Pianist," New York Times, May 21, 1968.
4. "Ray Lev Appears in Piano Recital: Brahms 'Intermezzi' and Chopin Sonata Given at Carnegie Hall," New York Times, November 5, 1942, 34. By 1960, Lev had performed at Carnegie Hall thirty five times.Sam Chase, "Ray Lev in Pre-Europe Concert," Billboard, October 10, 1960.
6. "Mis Ray Lev, Pianist, in Exacting Program," New York Times, November 11, 1944, 19.
7. Miss Ray Lev Plays Piano Recital Here," New York Times, November 21, 1953, 11.
8. "Ray Lev is Dead; Concert Pianist," New York Times, May 21, 1968.
Lev was dedicated to advocating for minority groups. In 1949, she ran as a Labor party candidate for City Council.9 She gave frequent performances for the benefit of communities, including a 1951 concert at the Brooklyn Museum in support of educational programs for children.10 The New York Herald Tribune observed that Lev "has been taking up the cause, these years, of young composers with very few or no opportunities to be heard."11 She was a donor to the International Society for Contemporary Music, the scholarship fund for the Greenwich House Music Society, and for the prestigious Lado Prize.12  She was a sponsor of the African Aid Committee (a subcommittee of the Council on African Affairs), a supporter of the Civil Rights Congress, an organization that campaigned internationally to defend African Americans convicted of crimes, especially in cases involving the death penalty.
Lev told the FBI that, "as a result of origin and background she feels as a 'Jew' she is a member of a minority group. She further stated that she feels it is incumbent upon her to aid Jewish people and those of foreign birth."13
Lev married George P. Edgar in 1952 in New York City. They divorced in January 1958.
Lev was found dead in her apartment at the Spencer Arms Hotel in Manhattan on May 20, 1968, having taken her own life. She was 56 years old.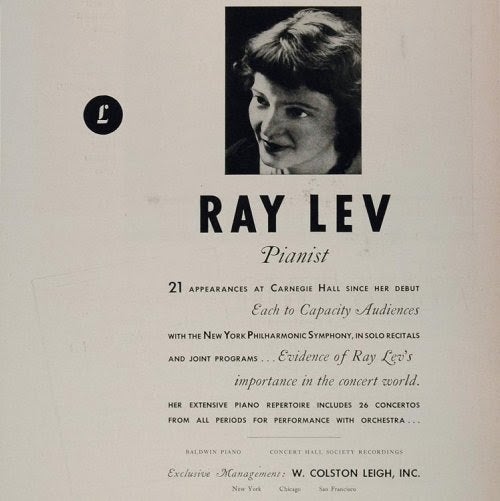 9.

James A Hagerty, 

"Contexts are Few in City's Primary: Lively Fight Is Seen, However, for Party Slates in Buffalo Over Racial Issues," New York Times, September 4, 1949, 1.
10. "Ray Lev to Open Benefit Series," New York Times, January 25, 1951, 21.
11.

New York Herald Tribune

, Marcy 24, 1941.

12. "Mis Ray Lev, Pianist, in Exacting Program," New York Times, November 11, 1944, 19.
13.

Robert J. Wilkison, "Changed: Rav Lev, wa: Mrs. George P. Edgar," FBI Report, December 28, 1953.
After she was named in Red Channels, Lev's political engagement and commitment to social issues led to an extensive FBI investigation. The FBI closely tracked Lev's living and travel arrangements as well as her involvement in organizations such as the National Council of Arts, Sciences, and Professions and the American Labor Party from the 1930s until 1967. During an FBI interview on December 14, 1953, Lev stated that "as a member of a minority group she believes her responsibility is to aid minority groups and foreign born."1 Lev's friendship with noted actor Paul Robeson was also of concern to the Bureau.
The FBI surveillance that resulted from Lev's political views saw Lev's anti-Fascist activities during World War II and her support for the American Committee for the Foreign Born) as evidence of her subversive activities.
In 1945, the FBI's New York Field Office wrote J. Edgar Hoover, "That the purpose of the 'Jewish black book' was to graphically portray the atrocities committed by the Nazis during the war against the Jews in the various European countries. Among the sponsors for the dinner where the financial drive was launched was Ray Lev.2
This scrutiny landed Lev on the Bureau's Security Index. Around the time the FBI started monitoring her movements, performances began to dry up. The FBI worked with the State Department to prevent Lev from traveling to Europe, where she could still find work. Lev turned to teaching to eke out a living, while the FBI continued to spy on her, eventually compiling a file that amounted to over 400 pages of information about her life and activities.
Lev was finally removed from the Security Index in 1968. The last entry in her FBI file cryptically reported her suicide: she had been found dead in her New York City hotel room, the agent wrote, "by means of asphyxia by smothering with plastic bag over her head."3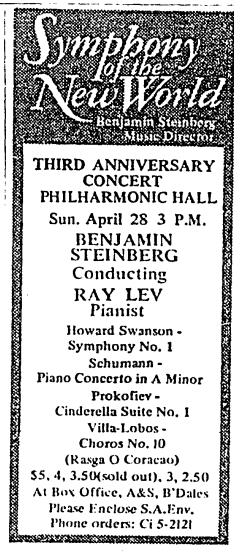 See Ray Lev's FBI Files: October 18, 1950-May 31, 1951 and July 17, 1950-June 5, 1968
3. Special Agent in Charge, New York, "Ray Lev, Aka SM—C," Memorandum, July 5, 1968, 2, FBI 100-370898-81, National Archives and Records Administration, College Park, MD.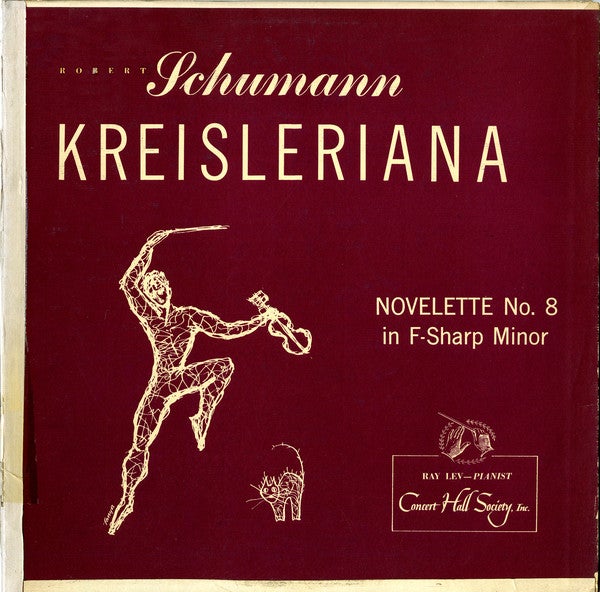 Recordings
Ray Lev - Piano Sonata No. 15 In C Major Allegretto In C Minor, 1948 
Franz Schubert, Ray Lev - Piano Sonata No. 15 In C Major Allegretto In C Minor ‎(LP), 1948
Ray Lev, Johannes Brahms - Sonata In C Major Op. 1 ‎(LP), 1949
Ray Lev, Pyotr Ilyich Tchaikovsky, Sergei Prokofiev - Doumka/Summer Day Suite ‎(LP, Album, Mono), 1950
Robert Schumann - Ray Lev - Kreisleriana / Novelette No. 8 In F-Sharp Minor ‎(LP, Mono), 1952
Robert Schumann - Ray Lev - Davidsbundler Dances / Arabesque, Opus 18 ‎(LP, Mono), 1952
Robert Schumann - Ray Lev, Daniel Guilet, William Schoen, David Soyer - Piano Quartet In E-Flat, Opus 47 ‎(LP, Mono, Ltd, Num, Tra), 1952