Biography
By Caitlin Moffett and Carol Stabile
Marguerita Maria "Mady" Christians was born in Vienna, Austria on January 19, 1900. Her father, Rudolph Christians, was a well-known German actor and stage manager; her mother, Bertha Christians, was an opera and concert singer. Her family emigrated to the United States in 1912, where her father managed the German Repertoire theater in New York City. When Christians decided to pursue a career as an actress, her mother accompanied her to Berlin, where she studied at Max Reinhardt's acting school. 
Taller than many leading men, Christians was a talented actress, with a fine soprano voice.  Christians made her debut in New York in 1915, in a one-act operetta titled Bruederline Fein Fine. In 1933, Christians was cast by MGM in A Wicked Woman and signed to a long term contract. Like many performers, Christians was relieved to flee the rising fascism of Germany. After returning to New York City, she performed in seven Broadway productions, including House, directed by Orson Welles.. Her talent was never in question: of her performance in A Divine Drudge, theater critic Brook Atkinson said, "It would be worth sitting through fifty bad plays to see her perform."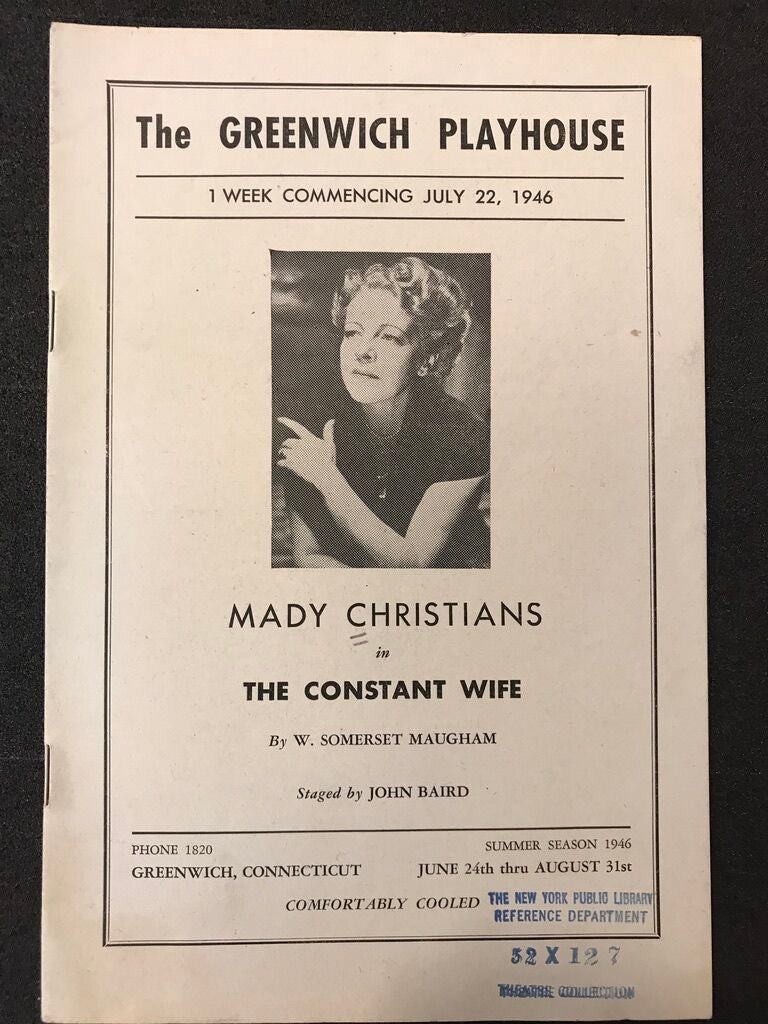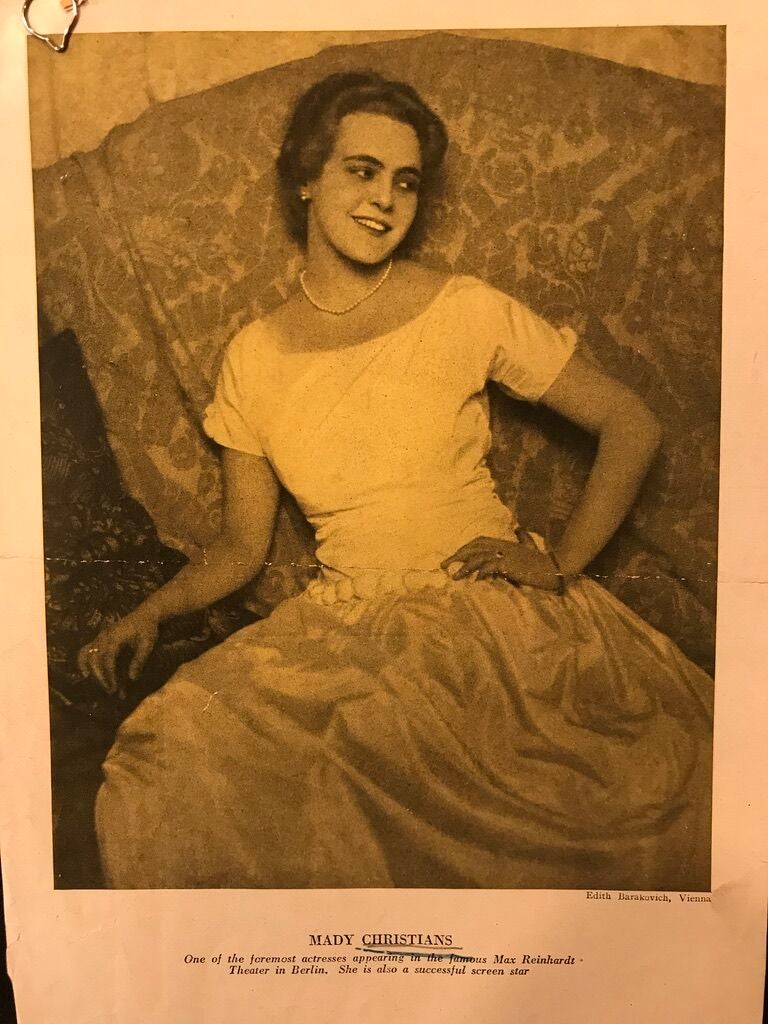 In 1939, Christians played Lady Percy in King Henry IV, Part 1, directed by Margaret Webster—the beginning of a collaboration and friendship that would last the remainder of Chirstians' life. Christians and Webster shared a circle of friends that included producer and actor Eva Le Gallienne and Marion Evenson, vacationing and working together on Martha's Vineyard whenever they could. Webster admired Christians' talent, describing her as "distinguished, opulent with a slight German accent."  ; In 1938, Webster cast Christians in the role of Queen Gertrude in Hamlet in what would become one of the defining moments of Christians' career. Atkinson claimed "Mady Christians' frightened, tortured, grieving queen is the best one this theatre-goer has ever seen." Other successes followed, including a role in Lillian Hellman's Watch on the Rhine, as well as a starring role in the hit I Remember Mama, produced by Rogers & Hammerstein, which was adapted for radio and then television. 
Christians also appeared in numerous films in Germany and Hollywood, including Seventh Heaven (1937), Heidi (1937), Tender Comrades (1943), and All My Sons (1948).
Christians taught acting classes at Columbia University in the 1940s.
Christians died of a stroke on October 28th, 1951.
Film
Audrey (1916) as Evelyn Byrd
Die Krone von Kerkyra (1917)
The Lost Paradise (1917) as Edith Bernardi
Die fremde Frau (1917)
Am Scheidewege (1918) as Cornelia
Frau Marias Erlebnis (1918) as Maria - ihre Tochter
Die Verteidigerin (1918) as Linda Saltarin - Doktor der Rechte
Die Dreizehn (1918)
Eine junge Dame von Welt (1918)
Nightshade (film) [it] (1918) as Fürstin Tscharkowska
Am anderen Ufer (1918)
Fidelio (1919) as Sonja Maderewska - singer
Die Sühne der Martha Marx (1919) as Mady
The Peruvian (1919) as Fernades Matamorer
The Golden Club (1919) as Marga von Olsberg, junge Witwe
Not und Verbrechen (1919) as Ruth
Die Nacht des Grauens (1919)
Die Gesunkenen (1919) as Reta de Lorni
Der indische Tod (1920) as Inge, Frau von Ralph Leyen
Indian Revenge (1920)
Wer unter Euch ohne Sünde ist... (1921)
Peter Voss, Thief of Millions (1921, part 1-7) as Gert, seine Tochter
The Fateful Day (1921) as Felicitas / Harriet Steel / Jelena / Marietta
Today's Children (1922) as Eva
The Loves of Pharaoh (1922)
It Illuminates, My Dear (1922) as Jeanne, Marquiße von Chatelet
A Glass of Water (1923) as Königin Anna
The Buddenbrooks (1923) as Gerda Arnoldsen
The Lost Shoe (1923) as Violante
The Weather Station (1923) as Die Dame
Finances of the Grand Duke (1924) as Großfürstin Olga von Rußland
Michael (1924) as Frau (uncredited)
Debit and Credit (1924) as Baroneß Leonore vin Rothensattel
Man Against Man (1924)
Slums of Berlin (1925) as Regine Lossen
In the Valleys of the Southern Rhine (1925, part 1-2) as Bettina von Wittelsbach
The Farmer from Texas (1925) as Mabel Bratt
A Waltz Dream (1925) as Princess Alix
The Adventurers (1926) as Armely - seine Frau
Nanette Makes Everything (1926) as Nanette
Sword and Shield (1926) as Prinzessin Wilhelmine
The World Wants To Be Deceived (1926) as Sefi - seine Tochter
The Queen of Moulin Rouge (1926) as Die Herzogin
The Divorcée (1926) as Gonda van der Loo
Vienna, How it Cries and Laughs (1926) as Mery, seine Frau
Out of the Mist (1927) as Lore
Queen Louise (1927-1928, part 1, 2) as Luise von Mecklenburg, Königin von Preussen
Grand Hotel (1927)
Homesick (1927) as Fürstin Lydia Trubezkoj
The Duel (1927)
Film (continued)
Miss Chauffeur (1928) as Steffi Walker
A Woman with Style (1928) as Dschilly Bey
The Burning Heart (1929) as Dorothee Claudius
The Runaway Princess (1929) as Princess Priscilla
My Sister and I (1929) as Prinzessin Matgarete von Marquardstein
It's You I Have Loved (1929) as Inge Lund
Lieutenant, Were You Once a Hussar? (1930) as Königin Alexandra von Gregorien
My Heart Incognito (1931) as La reine Alexandra
The Fate of Renate Langen (1931) as Renate Langen
The Woman They Talk About (1931) as Vera Moretti
The Black Hussar (1932) as Marie Luise
Frederica (1932) as Friederike
The House of Dora Green (1933) as Dora Green
The Empress and I (1933) as Empress
Manolescu, der Fürst der Diebe (1933) as Comtesse Maria Freyenberg
The Only Girl (1933) as The Empress
A Wicked Woman (1934) as Naomi Trice
Escapade (1935) as Anita
Ship Cafe (1935) as Countess Boranoff
Come and Get It (1936) as Karie Linbeck
Seventh Heaven (1937) as Marie
The Woman I Love (1937) as Florence
Heidi (1937) as Dete
Tender Comrade (1943) as Manya Lodge
Address Unknown (1944) as Elsa Schulz
All My Sons (1948) as Kate Keller
Letter from an Unknown Woman (1948) as Frau Berndle
Broadway
The Father (Nov 16, 1949 - Jan 14, 1950)
Message for Margaret (Apr 16, 1947 - Apr 19, 1947)
I Remember Mama (Oct 19, 1944 - Jun 29, 1946)
Watch on the Rhine (Apr 01, 1941 - Feb 21, 1942)
The Lady Who Came to Stay (Jan 02, 1941 - Jan 04, 1941)
Return Engagement (Nov 01, 1940 - Nov 07, 1940)
Hamlet (Dec 04, 1939 - Jan 06, 1940)
King Henry IV, Part I (Jan 30, 1939 - Apr 01, 1939)
Hamlet (Oct 12, 1938 - Jan 1939)
Heartbreak House (Apr 29, 1938 - Jun 1938)
Save Me the Waltz (Feb 28, 1938 - Mar 1938)
Alice Takat (Feb 10, 1936 - Feb 1936)
A Divine Drudge (Oct 26, 1933 - Nov 1933)