Gale Sondergaard was born Edith Holm Sondergaard in Litchfield, Minnesota on February 15, 1899. Her father, Hans Tjellesen Smidt Sondergaard, immigrated from Rodding, Denmark in 1890. He met and married Anna Kirsten Holm in the US.
Hans worked at the Litchfield Creamery as a master butter maker. The couple had three daughters: Gale, Ragni Holm, and Hester.
The family moved to Minneapolis in 1912, when Hans accepted a position as a federal butter inspector. Gale and Hester attended Central High School 1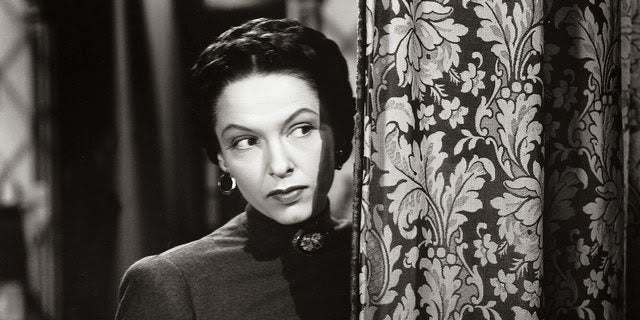 Sondergaard graduated from the University of Minnesota, where she studied theater and was a member of the Studio Players.
Sondergaard joined the Theater Guild in 1928, starring in a number of productions, including George Bernard Shaw's Major Barbara. In her debut film performance in 1936, she won the first ever Best Supporting Actress Oscar for her role as Claude Rains' wife in Anthony Adverse.
1Robyn Richardson, "Hester, the Other Sondergaard Daughter," The Litchfield Independent Review, March 19, 2019, https://www.crowrivermedia.com/hutchinsonleader/news/local/hester-the-other-sondergaard-daughter/article_0cb686e3-a37c-5ab8-8b6f-a201f596e42c.html.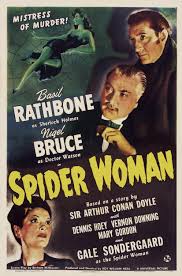 Although she was offered the role of the Wicked Witch in The Wizard of Oz (1939), Sondergaard turned it down, choosing to appear in opposite Paul Muni in the academy award-winning The Life of Emile Zola (1937). Sondergaard had roles in over fifty films and television shows and was best known for playing scheming or villainous women.
Sondergaard married Herbert J. Biberman, manager of the Theater Guild and a writer, in 1930.
She and Biberman adopted two children Joan Kirstine Biberman (who died in 1964) and Daniel Hans Biberman.
She died on August 14, 1985 in Woodland Hills, California.
Sondergaard's husband, Howard Biberman, was a member of the Hollywood Ten, a group of producers, directors, and writers who refused to testify before the House Un-American Activities Committee (HUAC) and were imprisoned as a result. Sondergaard was an outspoken critic of the anti-communist movement as a whole and the HUAC in particular. In 1951, she was subpoenaed to appear before the HUAC in Washington, DC in 1951.
She had been criticized, she told them, for being "a Jew- loving, Negro-loving, Red-loving, culture loving, peace-loving, un-American woman."
It was, she added, "incredible to be hated for loving so much and so many and so well."1
At a meeting opposing the HUAC in 1951, Sondergaard spoke passionately about her opposition to the anti-communist movement. According to the FBI agent who recorded her speech, Sondergaard identified the members of HUAC with "the forces leading to war and fascism, and herself and others like her with the anti-fascist, "people-loving," pro-Negro, etc. forces. She intended to continue supporting orphans from Loyalist Spain, as she had been doing. Herbert Biberman, her husband was now out of jail and well. She refused to advocate dropping bomb on the Russians. Members of the audience should not be intimidated by HUAC. They should refuse to testify about political affiliations.2
 
Anti-communists continued to dog Sondergaard's footsteps. As late as 1956, the American Legion was organizing a campaign against her appearance in Anastasia at the Playhouse in the Park in Philadelphia, supported by a member of AWARE, Inc. (Mrs. Kathryn E. Myers of Germantown)1 Despite the campaign, on July 17, 1956, Sondergaard opened to "one of the largest audiences ever seen in the Playhouse in the Park"2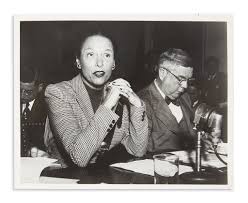 This campaign forced Sondergaard to testify before the House Un-American Activities committee again, which Sondergaard described as "an act of harassment."3
The FBI continued to maintain a file on Sondergaard until 1967.
Film
The Cat Creature (1973)
Tango (1970)
Hollywood Horror House ( 1970)
Slaves (1949)
East Side, West Side (1947)
Road to Rio (1947)
Pirates of Monterey (1947)
The Time of Their Lives (1946)
Anna and the King of Siam (1946)
Night in Paradise (1946)
The Spider Woman Strikes Back (1946)
Enter Arsene Lupin (1944)
The Climax (1944)
Gypsy Wildcat (1944)
Christmas Holiday (1944)
The Invisible Man's Revenge (1944)
Follow the Boys (1944)
The Spider Woman (1943)
Crazy House (1943)
The Strange Death of Adolf Hitler (1943)
Isle of Forgotten Sins (1943)
Appointment in Berlin (1943)
A Night to Remember (1942)
Enemy Agents Meet Ellery Queen (1942)
My Favorite Blonde (1942)
Paris Calling (1941)
The Black Cat (1941)
The Letter (1940)
The Mark of Zorro (1940)
The Blue Bird (1940)
The Llano Kid (1939)
The Cat and the Canary (1939)
Sons of Liberty (1939)
Juarez (1939)
Never Say Die (1939)
Dramatic School (1938)
Film (continued)
Lord Jeff (1938)
The Life of Emile Zola (1937)
Seventh Heaven (1937)
Maid of Salem (1937)
Anthony Adverse (1936)
Stage
Faust (1928)
Major Barbara (1928-1929)
Karl and Anna (1929)
Red Rust (1929-1930)
Alison's House (1931)
American Dream (1933)
Invitation to a Murder (1934)
Doctor Monica (1933)
Cue for Passion (1940)
Goodbye Fidel (1980)
Television
The Fall Guy  (1981)
Centennial (1979)
Visions (1976)
Ryan's Hope ( 1976)
Police Story (1974)
Nakia (1974)
Medical Center (1974)
The Bold Ones: The Lawyers (1971)
Night Gallery (1971)
The Best of Everything (1970)
Get Smart (1970)
It Takes a Thief (1969)