Jean Muir Fullarton was born in Suffern, New York in 1911, the only child of a substitute teacher and a certified public accountant. After seeing a production of The Merchant of Venice when she was nine, she decided to become an actress. In the 1920s, Muir studied French at the Sorbonne and decided to take a role as an understudy because of a conversation with actors returning home on the same ship.1
In 1930, she debuted on Broadway, as Jane Fullarton, in The Truth Game. She played a small role in Constance Collier's Broadway revival of Peter Ibbetson (1931). Her role in Saint Wench (1933), which one writer described as a "one-week flop," reportedly led to Muir being signed for a film contract with Warner Bros.2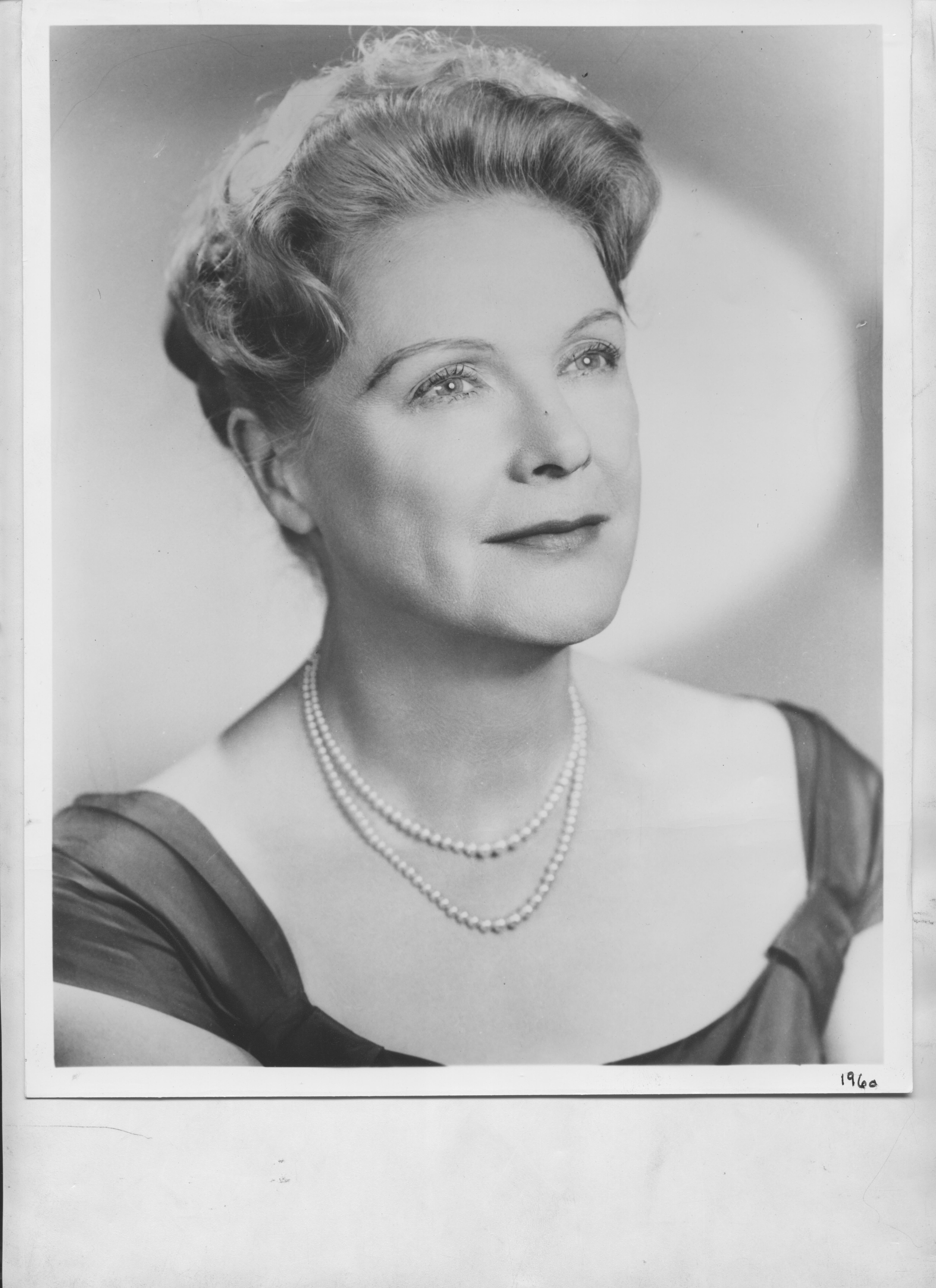 In the years that followed, the tall (5'9), willowy Muir made over twenty films for Warner Brothers, playing ingénues in films like As the Earth Turns (1934), Desirable (1935), Gentlemen are Born (1934), The White Cockatoo (1935), and A Midsummer Night's Dream (1935).
Interviewed in 1934, Muir said, "I have no desire to waste my time here. If I cannot do great work in movies, I shall not remain in Hollywood."3
By 1937, Muir had grown, in her own words, "very tired of learning and saying awful lines of dialogue, written mostly by cynics or idiots or hacks."4
She returned to Broadway, appearing in Pride and Prejudice and People at Sea in 1937, as well as on radio shows.
Muir returned briefly to Hollywood in 1940, making And One was Beautiful at MGM, and The Lone Wolf Meets a Lady at Columbia. In 1943, she made The Constant Nymph for Warner Brothers. Pregnant at the time, Muir had was mainly concealed behind a cello. Aware that as she aged, "the quality that had made me a star in the beginning was disappearing," Muir returned to New York City permanently after The Constant Nymph finished shooting.5
Muir married attorney Henry Jaffe in 1940. She and Jaffe had three children: David, Margaret, and Michael. The demands of marriage and family made work in film even less desirable and work in radio and television in New York City more attractive. Throughout the 1940s, Muir had roles in televised anthologies like Philco Television Playhouse, Boris Karloff Presents, and the Actor's Studio. Her broadcasting break came in 1950, when she was cast to play Henry Aldrich's mother in the televised version of The Aldrich Family, a popular radio sitcom about an awkward teen. Muir's casting was announced in Variety during the spring of 1950.
Throughout her career, and as is described in more detail in the section on her blacklisting, Muir was a committed member first of the Screen Actors' Guild in Hollywood, where her activism earned her the nickname of "Studio Pest." 6 In 1939, Jean Muir took a job as an "organizer for the newly legal vaudeville and nightclub performers union, AGVA," acting on her conviction that "whether she was a girl working the bar-rail as well as the floor-show, or whether she was a top-name performer earning thousands a week, my job was to make sure she belonged to her union."7 Along with her friend Madeline Lee, Muir actively participated in Actors' Equity, a union long led by actor Philip Loeb (also listed in Red Channels).8
Like many of the Broadcast 41, Jean Muir had been a vocal critic of Hollywood's racism since the late 1930s, appearing at public events around the country where on at least one occasion, she shared the stage with Eleanor Roosevelt.9 Reflecting widely shared concerns among progressives about the impact of racist propaganda in media industries, Jean Muir joined Fredi Washington in campaigning throughout the early 1940s to compel "the movie industry to abandon its old stereotypes of Negro caricature."10
 After being blacklisted in 1950, Muir found herself unable to get roles on screen and stage. Like many of those blacklisted (including Uta Hagen, Madeline Lee, and Ray Lev), her options were reduced to teaching her craft or working in community theater. She divorced Henry Jaffe in 1960. She returned to acting on Broadway in 1960, in a production of Patricia Jourdry's Semi-Detached. When Stephens College in Columbia, Missouri, offered her the position of head of their new drama department, Muir accepted the position, teaching there for eight years before retiring. She subsequently taught at the State University of New York at Stony Brook.
Muir died in Mesa, Arizona on July 23, 1996.
4Jean Muir, Unpublished Autobiography, Eugene, Oregon: Special Collections and University Archives, 144-145.
5Ibid.
6Vosburgh.
7Muir, Unpublished Autobiography, 179.
8Glenn D. Smith, "'The Guiding Spirit': Philip Loeb, the Battle for Television Jurisdiction, and the Broadcasting Industry Blacklist," American Journalism, 26(3), 2009.
9"Mrs. FDR Speaks at Testimonial for Walter White," Chicago Defender, June 3, 1944.
10Langston Hughes, "From Here to Yonder," The Chicago Defender, June 10, 1944, 12.
Film
Bureau of Missing Persons (1933)
Female (1933)
The World Changes (1933)
Son of a Sailor (1933)
Bedside (1934)
As the Earth Turns (1934)
A Modern Hero (1934)
Dr. Monica (1934)
Desirable (1934)
Gentlemen are Born (1934)
The White Cockatoo (1935)
Oil for the Lamps of China (1935)
Orchids to You (1935)
A Midsummer Night's Dream (1935)
Stars Over Broadway (1935)
Faithful (1936)
White Fang (1936)
Fugitive in the Sky (1936)
Once a Doctor (1937)
Her Husband's Secretary (1937)
The Outcasts of Poker Flat (1937)
Draegerman Courage (1937)
Dance Charlie Dance (1937)
White Bondage (1937)
Jane Steps Out (1938)
And One Was Beautiful (1940)
The Lone Wolf Meets a Lady (1940)
The Constant Nymph (1943)
Stage
Semi-Detached (Mar 10, 1960 - Mar 12, 1960)
Tenting Tonight (Apr 02, 1947 - May 10, 1947)
Listen, Professor (Dec 22, 1943 - Jan 15, 1944)*
Saint Wench (Jan 02, 1933 - Jan 1933)
Life Begins (Mar 28, 1932 - Apr 1932)
Peter Ibbetson (Apr 08, 1931 - May 1931)
The Truth Game (Dec 27, 1930 - Mar 1931)
Television
Starring Boris Karloff (1949)
Actors Studio (1949)
The Philco Television Playhouse (1950)
Matinee Theater (1958)
Naked City (1959)
Route 66 (1961)
Naked City (1962)