Gypsy Rose Lee is best known for her work as a burlesque artist--her Wikipedia entry, for example, describes her as "an American burlesque entertainer and vedette famous for her striptease act," adding by way of an afterthought that she was "Also an actress, author, and playwright."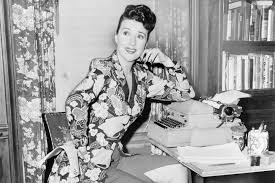 Gypsy Rose Lee was in fact a brilliant writer--the author of sharp and witty mystery novels, based on her experiences in burlesque and vaudeville, plays, and, of course, her autobiographical memoir, Gypsy. 
Like other women who wrote for stage and screen at the time, she was constantly suspected of not having written the work that appeared under her name. Novelist and playwright Ruth Gordon similarly complained that critics believed her play, Years Ago, had actually been written by her husband, writer Garson Kanin. 
I was surprised to learn that her authorship of The G-String Murders is still in question, especially since it's so clearly written by the author of Gypsy.
Fans of Gypsy Rose Lee's work will be excited to hear that Amy Sherman-Palladino in in talks to remake Gypsy.